Hold Your Fire
Shakin All Over
San Antone
Stairway of Love
Don't Start Me Talkin
You, You Point Your Finger
Big Hunk of Love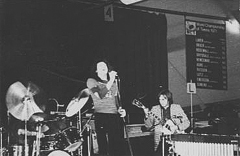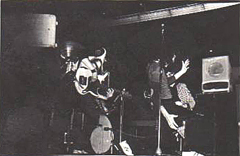 The first time I heard Patto live was in Stockholm in the end of 1971. I was 18 years old, and me and my friend Kire (Erik) Amkoff had been listening to Patto's first album for a year. At first we really appreciated John Halsey's drums and Clive Griffiths' bass, but when Hold Your Fire was released we were just astonished by Ollie's guitar playing. So, when we heard that Patto were supporting Ten Years After at the venue Kungliga Tennishallen (The Royal Tennis Court) in Stockholm, we went there without any hesitation.
At once we felt unique. The audience didn't understand anything about the greatness of Patto. They continually shouted for Ten Years After and, when Alvin Lee and co finally went on stage, they started shouting for I'm Going Home - until Alvin Lee replied 'Yeah, see you'. Patto did - the first time we heard it - Mummy with John Halsey in the lead, and when they played Shakin' All Over and Ollie had the guitar behind his neck, one fool in the audience shouted: "Oh, does he think that he's Jimi Hendrix?!" We were so ashamed.
And at the same time it seemed like we were a 'chosen kind'. We knew the greatness of Ollie - and of Patto. Well, our little town in the north of Sweden, Umeå, might be the town where Patto is most famous - at least in Sweden. Because I think me and my friend Kire influenced many people in loving Patto.
There were cover groups playing "You, you point your finger" several years into at least the eighties, and one of Umeå's successful musicians - the guitarist in the second version of Europe - Kjell Lövbom, or Kee Marcello as he called himself - did a song that was a tribute to Patto, and foremost to Ollie.
The song is called Tatto for Patto, and it alludes to Give It All Away from Hold Your Fire. I think it is a great tribute, and a guitar work that really celebrates Ollie (the same hammering-on technique).
Anders Öhman 2008
Kee Marcello
Tatto for Patto -
For further information and more music, please visit Kee Marcello's website
"Ollie Halsall sort of was everything at one and the same time – he had an amazing presence, he was totally crazy and could go away in any direction whatever! It was a fabulous beat when he played and he had an incredible tone. When my friends came with Van Halen's first album, I just played my Patto records to them, this was already done! Ollie had total control of both hammer-ons and legato technique.
I remember me and Johan Norberg [also a well-known guitarist in Sweden] trying to figure out Ollie-riffs from the records when we were young.
Patto was an incredibly important band for me. They had a quite simple base of rock, and yet so many layers. They played as a support act to Ten Years After in Stockholm in 1972 and Ollie apparently played the ass of Alvin Lee to pieces, I've heard, but Alvin liked Ollie so it was okay on his part. Unfortunately I never got the cans to see Ollie live, I know he played with Bill Lovelady in Umeå, but I was to young to be admitted.
Every day I can tell how Ollie has affected my way of playing, with hammer-ons, alternate picking…. All this I have Ollie to thank for."
Kee Marcello 2008