ddd

The Ollie Halsall Archive
Hertfordshire
England

Übersetzen Sie diesen Aufstellungsort:
Traduisez cet emplacement:
Traduca questo luogo:
Traduza este local:
Traduzca este sitio:

If you have any items of interest please contact us:



Acknowkedgements
Anders Öhman
Andy Lloyd
Antonio Uguccioni
Armand Serra
Barney Swain
Bernie Holland
Bob Beecher
Bolle Gregmar
Brian Godding
'Prof' Chris Holmes
Christian Loebenstein
Claudia Puyo
Colin Hill
David Baxendell
David Osbiston
Dean Cole
Eddie Gaines
Eddie McHenry
Erik Amkof
Francesco Malfatti
Guy Mann-Dude
Graham Oliver
Harri Honkaheimo
Ian 'Buda' Carpenter
Joerg Reinicke
Jerry Hart
Jorg Souto Bartolomé
Jorge 'Flaco' Barral
John Altman
John Engel
John Greenleigh
John 'Admiral' Halsey
John Hiseman
John McCarthy
John Otway
Juan Graves
Juan Javier Martinez
Ken Thornton
Kenny Barral
Lloyd Godman
Manolo Jimenez
Markus Voggensperger
Martin Gardiner
Martin Jenner
Martin Wakeling
Marty Zucker
'Starvin' Marvin Siau
Michael d'Albuquerque
Mik Glasser
Mike Shefrin
Mike and Anja Stax
Morgan Fisher
Neil Innes
Nick Walsh
Parker Goessling
Pat Olkiewicz
Pere Colom
Pete Price
Pete Moss
Peter Muir
Phil McCarthy
Reijo Lainela
'Chairman' Ralph Heibutzki
Roger & Mary-Ellen Marcus
Roger Houdaille
Roman Bunka
Saturo Yonemoto
Steve Yorks
Terry Eason
Terry Stamp
TF
Tomás Graves
Thomas Patrick Coffey
Tony Newman
Vezetek
Wesley Stace
Zanna Gregmar
. . . and everyone else who has contributed information and archive material

---
The Ollie Halsall Archive is eager to obtain in any live audio or video performances featuring Ollie and any stories, anecdotes or reminiscences from those who knew him or simply saw him perform.
Use 'Recipient email address: baz@ukart.com
---
Tore Rosbjorgen
Patto album reviews
John Otway
The lunatic busker's official site
Neil Innes
Ron Nasty's official site
Jon Hiseman
Temple Music
Terry Stamp
Third World War
Fatsticks man
Starvin Marvin
Marvin Siau's site
Brian Godding
Lotsawatts! - News and information
about the former Blossom Toes guitarist
Morgan Fisher
Fascinating site of Otway band's keyboardist extraordinaire
Steve York
Famed session bass player whose 1973 album Manor Live featured both Ollie Halsall and Mike Patto
Pere Colom
Site of the photographer and former bassist with Kevin Ayers
The Cool School of Singing




Founded and structured by Zanna Gregmar to teach performance skills, self esteem and confidence in young people.
---
adamcroft.com
alrightnow.com
Babe Ruth
Big Untidy magazine
Chairman Ralph
Cherry Red Records
Craig Weston Web Designer
Crazy Pig Designs
David Osbiston
Deià Mallorca
dmme.net
Donald Sauter's Unarchy
Everything SG
Facelift Magazine
Fag Ash Lil
Flipside Studios
Glammest
Guy Mann-Dude
Head Heritage
IndieWorkshop.com
Jaffa & The Boozers
Lloyd Godman
Kee Marcello
kingswalden.com
Market Square Records
Martin Hanson
Mersey Beat newspaper
Moose on the Loose
Musictoyz
Personalised number plates
The Ploughmen Collective
PopDose
Offbeat Music
Graham Oliver
Otto's Guitars
Chas Rigby
The Sensational Fibs
Shark Attack Guitars
Shindig Magazine
Skinny Lincoln
Sonic Pollutions
Starvin Marvin
Theatre Monkey
Trax
Twang
Van der Graf Generator
vonFrickle
Woody's Guitar World

The inimitable John Otway reads an extract from his autobiography ;-)
---
Martin Jenner
A contemporary of Ollie's. Another lefty with a unique approach. Not entirely representative of his talents, but the best footage I can find at present - accompanying Barbara Dickson's song High on Fortune:
---
The Ploughmen
Your webmeister's occasional band of hillbillies performing a well-known popular song.
---
Sunshine Taxman
A psychedelic 'mash-up'

---
Not Tonight Jospehine
Another of your webmeister's current musical projects.
---
It is a little-known fact that the UK ringtone [i.e the one you hear in your earpiece - NOT the one the phone makes] and engaged signal are pitched to G. This, of course, provides a cheap and widely accessible tuning device :-)
Thanks to Adam Croft for this invaluable tip
---
Tom's First Hit!
The very first recording by Thomas Edison. 1877

On a vaguely related note:
Alexander Graham Bell is credited with the following marvellous understatement:
"I do not think I am exaggerating the possibilities of this invention when I tell you that; it is my firm belief that, one day, there will be a telephone in every major town in America."
---
Carl Berry
The origin of the Rock & Roll?
Carl Hogan plays a convincing Chuck Berry intro to Louis Jordan's Ain't That Just Like a Woman - 1945 [yes, 1945!]

---
A Hard Night's Chord
The definitive 6-string solution, courtesy of Donald Sauter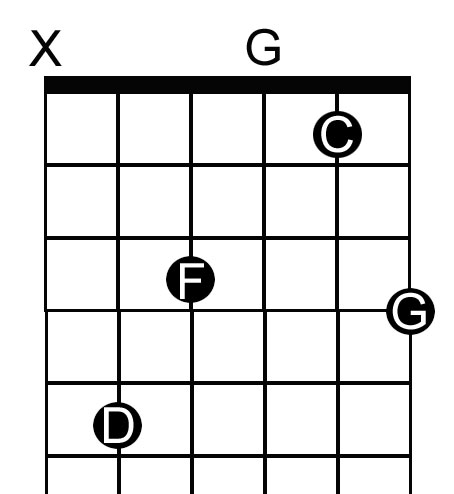 [Requires a friend to fret that bottom D]

---
Parker Goessling
Give It All Away?
Give up altogether, more like!
I wouldn't normally care for someone copying any solo note-for-note but this is truly something specal. Parker Goessling is a young guitarist from Boston MA, USA. Check out his band The Late here
But first, sit down and watch this:
Parker Goessling
Give the Dots Away!
It get's worse! Parker's even transcribed it!
"From Patto's 1970 album Hold Your Fire. Not the best video but I thought it would be nice to post for all the Ollie fans out there. I transcribed this solo for my guitar proficiency at Berklee in the Spring of 2015. Hope you enjoy!" PG
CLICK TO VIEW FULL SIZE PDF: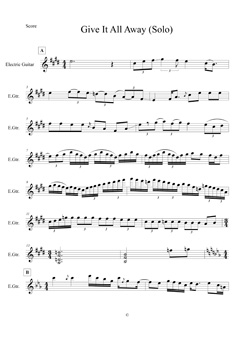 © Parker Goessling, 2017