'Bootlace Johnnie and
the Ninety-Nines
A new album by Terry Stamp, 'Bootlace Johnnie and the Ninety-Nines', was released in 2004 on Burning Shed Records. The new album is produced by Alistair Murphy of Cromerzone, and features 11 songs written by Terry Stamp and Jim Avery.
Nearly 30 years after 'Fatsticks , these eleven songs tell of Terry's time playing bass in his teens at the Wimbledon Palais, fronting Third World War in his twenties, and his adventures ever since in the New World. More info at: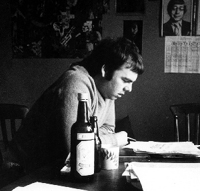 Fatsticks 1975
The CD version supplied by Terry [not as yet officially rereeased] has revised track sequence which places all of Ollie's principal contributions in the first 5 tracks:
Dinah Low
Itchy Feet
Stage of Fools
Black Bomber Waltz
Motor Head
Town Drunk
Razor City
Kid
Honky Honda
Salvation Band
Fatsticks
Kid

Stage of Fools

Honky Honda

Salvation Band

Black Bomber Waltz

Motor Head

Razor City

Town Drunk

Fatsticks

Itchy Feet
Some of Ollie's wildest playing since Patto. This 're-introduction' to hard-rock led him and drummer Tony Newman into Boxer (who covered two Fatsticks tunes, Dinah Low and Town Drunk).

THE MAKING OF FATSTICKS