La Vogheur Lough
A painting by Bernie and Ollie c1972
---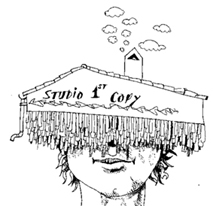 Pen & ink drawing by Ollie
---
Ollie in Amsterdam 1979 [touring with John Otway]. Photos: Morgan Fisher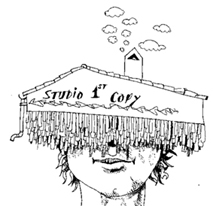 Pen & ink drawing by Ollie

I don't know much about art, but I know what I like." Gelett Burgess
Like Ollie, I also went to art school and dropped out to go on the road as a muso. When I was playing bass in Patto, we used to travel around in a Ford Transit and to kill time on some of the longer journeys we would have a communal drawing session, the artwork was executed mainly by Ollie, me and John (Halsey).
We would do these 'group-drawings'. On one occasion I bought an A3 sketch pad and a set of coloured felt-tipped pens. One of us would come up with a theme, usually prefixed by "A Day At The . . . " And so it would develop, with Ollie, John and me creating these weird kinds of consequence-drawings - I would draw something and then Ollie would react by adding something and John would add some more.
Actually, whilst evidence survives of some of Ollie's artwork, it must be said that drummer John Halsey is also a dab-hand at illustration.
As it happened, we filled an entire A3 sketch pad. There are some amazing drawings in that book which I titled "The Patto Drawings. About ten years ago I decided that John Halsey should be the rightful custodian and gave the book to him as a birthday present and he has taken care of it ever since.
It is doubtful whether some of those drawings could be published because they often contain explicit references to other artistes who might be driven towards taking legal action in light of the way they had been depicted.
Apart from being a great drummer and a good friend, I look upon John as the real archivist of the remaining Patto artefacts and, along with the drawings he looks after all sorts of other stuff, with the exception of one amazing item, which, I fear, has now been lost forever. I am talking about a large oil painting, titled 'La Vogheur Lough' which was executed by myself with the help of Ollie around 1971-72 when I lived in Hendon.
I remember a conversation with Ollie on the topic of 'art colleges' and I mentioned that I still had the remains of my original set of oil paints, perfectly preserved in tubes, dating back to 1967 when I was a student at the Gloucestershire College of Art, in Cheltenham.
My intention was to create a large painting and use up these paints as, in the early 1970s, I had started using acrylics, mainly because it didn't take so long for them to dry.
So I got a sheet of hardboard eight foot by four foot and fixed it to a batten-support and set up an artist's studio in the flat at Hendon. On the very day I started the painting, Ollie turned up to visit me and we spent the entire day creating this work of art.
We stopped half way through to go across into the kitchen to make a shepherd's pie for our dinner that evening. To this day I will never forget the advice Ollie gave me as I was frying the beef mince - "Careful, Berns," said Ollie, raising even higher those two fluffy caterpillar eyebrows, "Make sure you fry it through to make sure the tapeworm is dead" - advice which I still heed to this day, having yet to convert to vegetarianism.
While the pie was in the oven, we went back to the studio to complete the painting and with that spontaneity typical of Ollie, he came up with a title "La Vogheur Lough" which had to be enunciated in a Peter Sellers type of stylised French accent.
In 1973, Jeff Beck recorded my composition "Diamond Dust" on the album 'Blow by Blow' and, by 1974, for the first time in my life I had enough money to put something down on a house in Harrow. I had to move all my stuff out of the flat in Hendon but I just didn't have enough room for this enormous painting, so I gave it to Benjy Le Fevre who was the chief roadie for Led Zeppelin.
So, to this day, I don't even know if 'La Vogheur Lough' has survived the ravages of time - for all I know it could have been destroyed years ago.
All was not lost, though,because on completion of the painting I took a couple of colour transparency photographs and my good friend Barry Monks has provided me with a full colour print taken from a scanned slide which now takes pride of place in the hallway.
However, if anyone out there reading this, knows of the whereabouts of the original "La Vogheur Lough" and is prepared to return it to me - a reward will be offered!
After we (the Pattos) had finished the tour of Europe, Ollie asked me if I would like to come over to have dinner with him and his wife Monica at their house in Gibbs Green, Edgware.
Ollie asked me what I would like Monica to cook for my dinner and my reply was instantaneous: "Sausages!" And so one afternoon, the date of which eludes me, I drove over and had a very nice meal of sausages, mash and red cabbage, cooked with great care by Monica.
This was quite an unusual experience because Ollie was behaving in a very sedate manner - almost the complete essence of sobriety, exuding an aura of complete sanity and responsibility, which was completely the opposite of what I had become accustomed to during our bouts of raving and looning.
However, my order of 'sausages' must have deeply ingrained itself in Ollie's subconscious mind, because, the theme of 'sausages' was used by Ollie as part of his contribution to our painting 'La Vogheur Lough', specifically the string of pork sausages to be seen levitating in mid-air encircling the cupola of St Wauls (cathedral) to the upper left of 'Les cinque tits de Yoko Ono'.
['Walls' sausages are a famous brand
in the UK – Ed.]
Furthermore, he was also later to write a song called 'Sausages' [on the unreleased Patto album, Monkey's Bum, 1973], so my predilection for this particular savoury item must have affected him deeply. No doubt, in the not too distant future, some obscure American professor will write a lengthy thesis on 'Offal and the Collective Unconscious'

Bernie Holland
'Studio Crank'
January 2007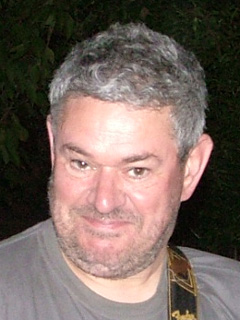 'Berns' lives to Tell the Tale

Caves drawings

Sausages
Patto 1973