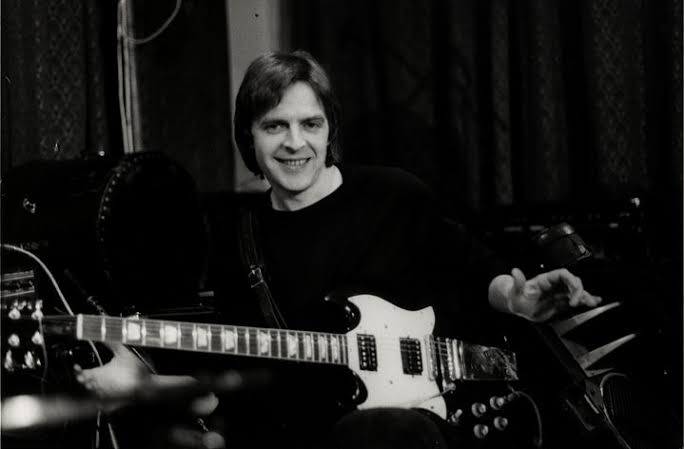 For full details Brian's career and current projects, please visit:

Slaughter on Shaftesbury Avenue
Brian Godding's solo album
"Intence jazz-rock fusion of the highest quality.
Goddings guitar playing should please fans of Mclaughlin and Holdsworth to no end. Heartily recommended to all fusion fans"
Dave Wayne,Gibraltar Encyclopedia of Progressive Rock
First released in 1988 on reckless records (vinyl only), this CD re-master is an extended version of the original with a far superior sound and production.
Available from: www.TheWildPlaces.com
This record is reviewed in depth at www.touchingextremes.org
Olliecaster
"The modified Telecaster, recently reincarnated. Note the fingerboard wear courtesy of Ollie! I had it left when the board was re fretted back in the mid' eighties. He must have had carbide-tipped fingers to generate that amount of wear in the 6-8 months he had it!"
I first saw him with Timebox at a jazz festival we were playing at as well
about 1968(?). We were a band called the Blossom Toes incidentally. He was playing mainly the vibes then but did play some guitar (a white Fender Telecaster) but had not. at that time, developed his unique ' streaming' soloing ability.
I next met him when I was playing with Keith Tipett's Centipede Jazz orchestra along with Mike Patto, who was one of the singers, Zoot Money, Boz Burrell, Julie Driscoll (later Tipett), Maggie Nicolls and Robert Fripp. Mike's band (by then Patto) supported us on some concerts and by this time Ollie was playing the famous white 3 pick-up Gibson SG Custom - and in full flight. I can't tell you what a revelation that was to behold!
I used to go to as many Patto gigs as I could (mainly at the Torrington, North Finchley and the Hampstead Country Club) and, funnily enough, became quite good mates with Gary Moore who used to show up when ever he could for the same reasons as me!
"The first player I saw who impressed me was Ollie Halsall. He was fresh and didn't play like anybody else. And that style became a little more common later on with people like Alan Holdsworth. But when I first heard these jazzy, saxophone style phrases on guitar I thought 'What's that?'. It was kinda like what I wanted to do myself but hadn't worked it out. He showed me what was possible." Gary Moore International Musician Vol. 8/10, October 1982.
They were a genuinely fantastic quartet who could cover every style worth covering with amazing panache and humour and, of course, there was Ollie who could rip your brains apart at the drop of a hat!
Olllie's playing was the 'state of the art' at that time, not just for his cosmic soloing ability, but also for his totally complete approach to the instrument: comping, rhythm playing, tone, timing , etc.
I, like many other 'disciples', used to look at that white SG and yearn to get one - genuinely believing it had some great bearing on the unique noises coming out off it. The first time I actually got to play with it was a mix of astonishment and disappointment as it really was the pits to play, with hardly any frets left and strings rusty enough to give you hand infections - Bloody hell!
Anyway, Bob Fripp couldn't make the last Centipede concerts due to King Crimson commitments and Keith asked me who I thought would be a good replacement. So Ollie, on my recommendation, took over Bob guitar chair for the last three Royal Albert Hall concerts and the Nancy Jazz Festival which were a hoot in more ways than one!
Moving on, I got offered a British tour with Gary Glitter [!] by his musical director Lance Dixon (another Jazz mate) but I couldn't do it. So, for a joke, I phoned Ollie and asked him if he'd like to 'try out' for the gig - fully expecting him to tell me to fuck off!
But he was really up against it financially at the time and jumped at the offer and, of course got the gig. He had no guitar at thetime so I lent
him my modified Telecaster [bottom left]. I was by then playing an SG standard.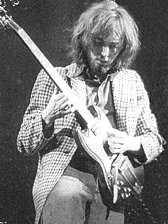 Ollie with Brians SG Standard
I used to lend Ollie guitars sometimes as there was a period when he didn''t have his own. All the patto/ boxer gear was snaffled up by the management company including his SG custom.
I got a call a few weeks later from Lance whilst they were still rehearsing to ask again if I could do the gig so I said "Why, has Ollie chinned Glitter?". No, Ollie was cool but the other guitar player was not working out so I thought "fuck, Ollies doing it so I've got to!!", cancelled my BBC work [bad move!] and we did 'The Silver Star comeback Tour" - working men's clubs a gogo!
[Hence the John Birch silver star Glitter band guitar which actually I played on the tour - every string tuned to A to get those Glitter riffs. Can you imagine Ollie putting up with that?] Loads of tales there but I'd have to be bloody careful with the details!
Ollie booked me once as his guitarist [how bizarre is that] for a film music score he'd been commissioned to do and under the title of the Blue Traffs we did it and, he - surprise surprise - a porno film!
I did quite a few demo sessions with Ollie for Tim Rice (great guy) and Andrew Lloy-Webber for their musical projects -I wish I'd taken a percentage!
I lost touch with Ollie a bit when he joined Kevin Ayers and then totally when he went to live in Spain. There's tons of memories of those times, like playing cricket in Regent's Park every Sunday morning with the Patto's, Boz Burrell , Zoot Money, Bernie Holland etc.with cricket equipment on total involuntary loan from Manchester University
Brian Godding, October 2005
Cricket, Lovely Cricket
David Baxendell: I remember partaking of some great cricket matches in Regent's Park. The Patto team with extras - Mark Charig, Elton Dean, Nick Evans, Gavin Shaw, Boz, Barnabas and Eric Swain. The only pitch we could use was the one no-one else wanted and was on such a slope that Mike would almost disappear over the horizon to start his run-up. Wicked fast bowler he was, and Ollie's spin was impossible to counter. However, with the amount of dope and booze in the "pavilion" no-one really cared about the result.
I also recall an evil soccer match in the pouring winter rain between The Patto Tripping Loonies and Zoot Money's Speedfreaks. Not being of a magnificent stature myself, If I got caught with the ball with one of Zoot's hairy gorilla roadies bearing down on me, I would abandon the ball and run away.
Barry Dean: Yeah that was a great game with the Loonies and the Speedfreaks, absolutely poured down with rain!I can remember George(Zoot)reciting Shakespeares Henry V, 'Once more into the breach, dear friends' and realizing there was more than just Lucazade in the bottle by our goal!)The field was dubbed 'Paradise' the scene of many a loon, I forget the name of the Pub up on Baker St [The Volunteer. Where Admiral Halsey first met Timebox - Ed], but afterwards a few of us went there, filthy and soaking wet, and drank Guiness laughing insanely at the madness of it all. Doooah!! Right down the street from Georgina and Gavin's(the Shaw's)
David Baxendell I lived in the eggbox room. Your double bass was parked there for a while and I developed quite a romantic (but unfulfilled) relationship with it. Is that Little Charlie and the Sidewinders? Do you remember the strange guy who used to lurk in the bushes around Paradise. The one who sliced up plastic macs with a razor?
Philip McCarthy: Mike (Patto) was a fantasyic cricketer, a very fast and accurate bowler.
Barry Monks: Bernie Holland once told me that he constructed a fully functional scoreboard for the Regent's Park test matches.