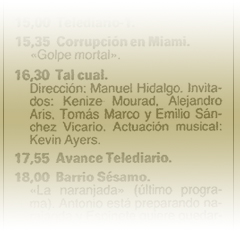 Content includes:
© Ian Carpenter
© Roy Wood
---
"I was gigging regularly with Kevin in the late 60s/early 70s the gigs would be totally unpredictable and that's what attracted me to his music in the first place I guess - the fact that there was no set pattern to what would happen. I recall one gig where I was soloing and spotted Kevin gesturing me to end the solo so I stopped and Lol Coxhill said 'why are you stopping?; I pointed to Kev and Lol shouted 'oh don't take any notice, you carry on!' Since two or three others were also soloing at the time I stepped away!"
- John Altman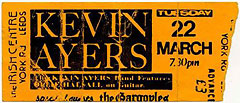 ---
Let There be Drums!
'Starvin' Marvin Siau has unearthed a marvellous clip of Kevin Ayers from Belgian TV in 1982.
For some unaccountable reason, the members of his touring band decided to play musical chairs with the instrumentation. This resulted in Ollie being reunited with his first love, the drum kit . Whilst girlfriend Zanna Gregmar does a Hendrix impersonation with his Gibson SG guitar.
"Kevin would play on any piece of wood that 's in tune and to save time in between gigs play on the same gear as the band before, " says Marvin.
"It encouraged me to play without pedals on an odd instrument in uncomfortable circumstances sometimes, see how long I would hold out, hihi, learned a lot from that!"
Bassist Bolle Gregmar recalls: " We all switched around on the instruments vecause Ollie didn't care to pose for a guitar solo he wasn't actually playing, so He's on Drums, Zanna on wicked Guitar, and Pedro Colom [bass player] on keyboard and me [drummer] on bass.
We did the whole thing in one real take and one rehearsal. wish it were better quality. but This is a fun moment in the Bruxelles TV station. On that same Billing were The Jam and they did A Town Called Malice. There was a guitar incident with a forgotten Rickenbacker 12-string for Paul Weller and he refused to even play Kevin's 6-string Rickenbacker which was offered. So the result was that Mr Weller performed in the video sans guitaire."
"Playing with someone like Ollie makes the whole tedious process of going out on the road worthwhile."
- Kevin Ayers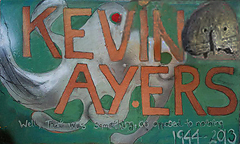 Kevin Ayers memorial plaque laid in the churchyard at Deia, Mallorca, 16 August 2003
The incription along the bottom reads, "Well, that was something, as opposed to nothing."
The following list was originally complied by Why Are We Sleeping magazine in 1994 and has been updated accordingly. It comprises known audience recordings and radio shows and is does not represent the entire itineraries of tours and concerts.