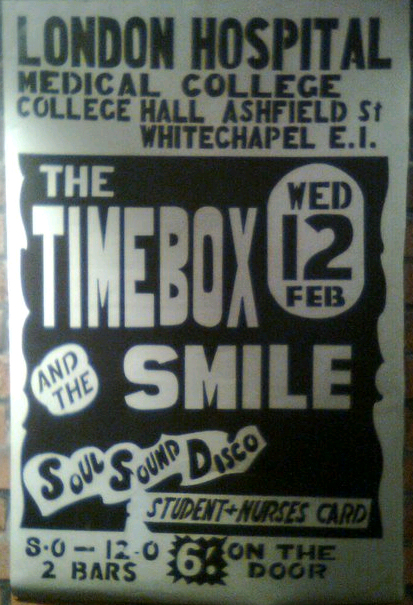 Smile were the pre-Freddie version of Quenn. The lead singer was Tim Staffell. He was previously in Morgan with Morgan Fisher, who, of course, has a close connection with Ollie. Moreover, Morgan played keyboards on Queen's 1982 European tour. How many degrees of separation?
Timebox
Chris Holmes keyboards
Clive Griffiths bass vocals
Ollie Halsall guitar vibes keys vocals
Mike Patto vocals
John Halsey drums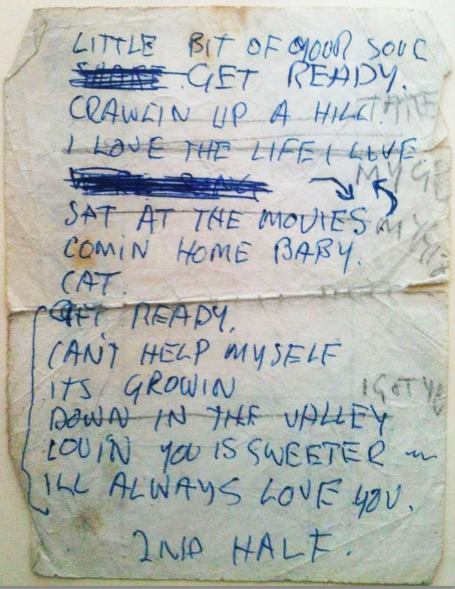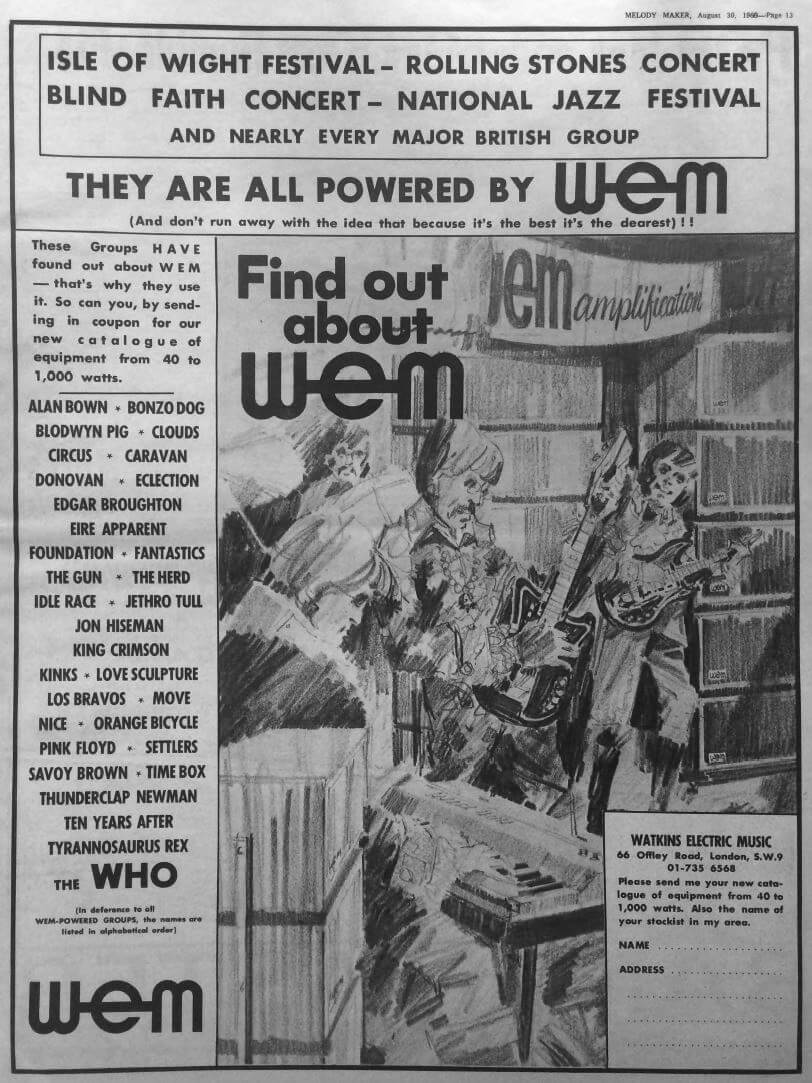 Melody Maker • 6 September 1969
"I asked [Charlie Watkins] what was the best sound he'd ever heard from one of his systems, fully expecting him to name Pink Floyd, who became probably the biggest users of WEM equipment and who had proudly included their WEM PA as part of the sonic payload depicted on the rear of the 1969 Ummagumma album. But that wasn't his answer at all. "No. Mike Patto's Time Box should have had that reputation, because they used to do magic with it — later they became Patto, a Roundhouse sort of band..."
- Gary Cooper Sound on Sound magazine 2015

The appearance on Colour Me Pop was 7th December 1968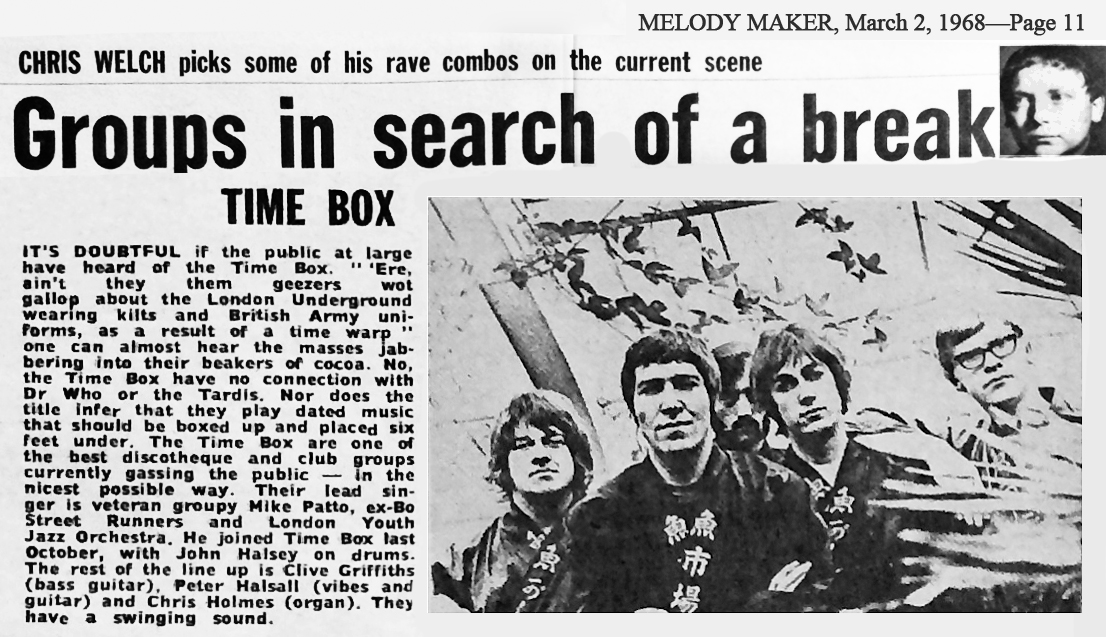 Clic/tap to enlarge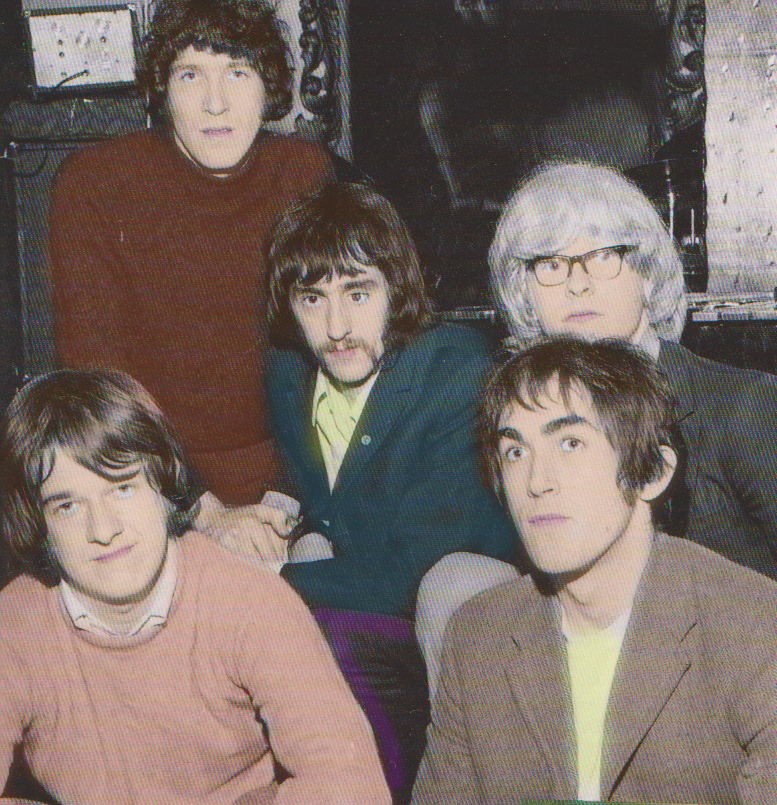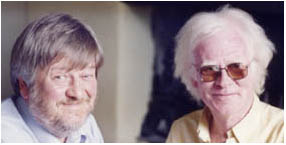 Admiral' John Halsey & 'Professor' Chris Holmes
Cambridge 1997
© Barry Monks
VIEW ALL IMAGES
Moose on the Loose
The Great Lost Album 1969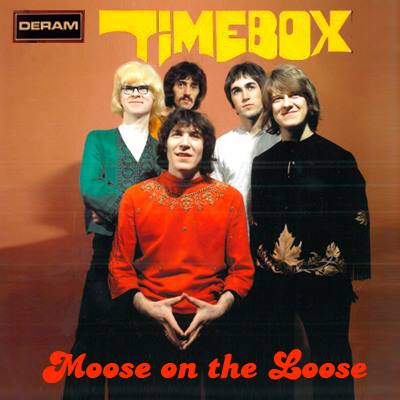 Play the Perfect Fool
Produced by Wayne Bickerton
[Not to be confused with The Original Moose on the Loose which is a singles compilation.]
The Deram Anthology and Beggin compilations include singles and b-sides plus tracks recorded for the unreleased album. Whilst they form comprehensive documents of the band's recording career, both releases miss the golden opportunity to finally present the intended album Moose on the Loose in its full glory.
All tracks are Halsall/Patto compositions except Country Dan and City Lil and Gone Is The Sad Man - which are Halsall alone.

SIDE ONE

SIDE TWO
Out-take not included elsewhere
I apologise if some things on this site are a little obscure, especially to our non-UK members. Admiral John Halsey was a cub scout in his youth, which is probably where he got this song from. Here he is accompanied by a young Peter Halsall from the 12th Southport pack with their rendition of the Gang Show classic, Riding Along on the Crest of a Wave.

On The Crest Of A Wave

The Big Switch IMDB

Ollie with his first guitar and an instrumental version of Come On Up. I was hoping this film [The Big Switch. 1968] had been lost and not found, it's so awful. "The guy dancing with the blonde was Stephen Lesk or Lest something like that. He was the manager of the Scotch of St James. They dubbed a different voice onto him I remember. "The whole thing was so amateur. It was a club in Earls Court or The Cromwell Road [The Cromwellian?] can't remember. We did it for free. "Laurie Jay and Stephen convinced us it was a golden opportunity to break into the big time. Nobody in Timebox was writing anything and that's why we did an instrumental version of the Young Rascals, Come On Up. "When it was released it was a double feature with another film called The Sweet Sins Of Sexy Susan. We all went with Eric the roadie to a seedy cinema in Soho and saw it. All the dirty old buggers in there were fiddling with themselves with raincoats on their laps. No popcorn in those days, just tissues."
- John Halsey

One of my best Timebox memories: My roommates and I decided to throw a party and it was going along splendidly until the record player started acting up.
There were various versions of who of Timebox were actually in attendance at the party; since I am the last surviving member of the four of us, I will go with my own version, as I distinctly remember Mike and Ollie sitting on the steps of our "sunken" living room that night (no Chris, no Clive) looking rather exhausted as they had just come from playing a gig someplace.
The music stopped and everyone was sort of at a loss to deal with the quiet. Quick as a flash Ollie ran out to the van and within minutes the music was once again happening. I have no idea what he did but whatever it was, it worked.
However, the lowest volume was approximately 14-1/2. I was sure that we would be deported or at least ticketed (it was, after all, St. John's Wood) but when I looked out the window there were people dancing in the street and suddenly our small party had become a huge block party, thanks to Ollie's ingenuity.
I found out later that we had emptied out the pub around the corner and half the houses in the neighbourhood. Good music played loudly will do that. The next morning several of my albums had disappeared and I was most upset that my Tim Hardin Live in Concert album was one of the missing.
It always struck me as ironic that the next Timebox single turned out to be Don't Make Promises, with the arrangement sounding unusually similar to the live version on my purloined album. Oh well."
- Patricia Olkiewicz 2017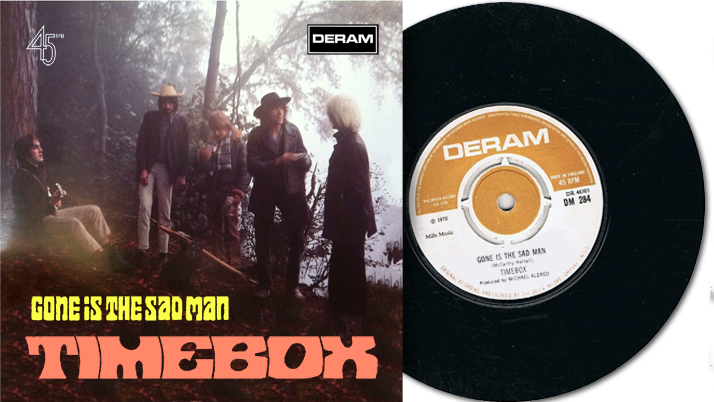 Unfortunately, not a real sleeve, although this should have been the A-side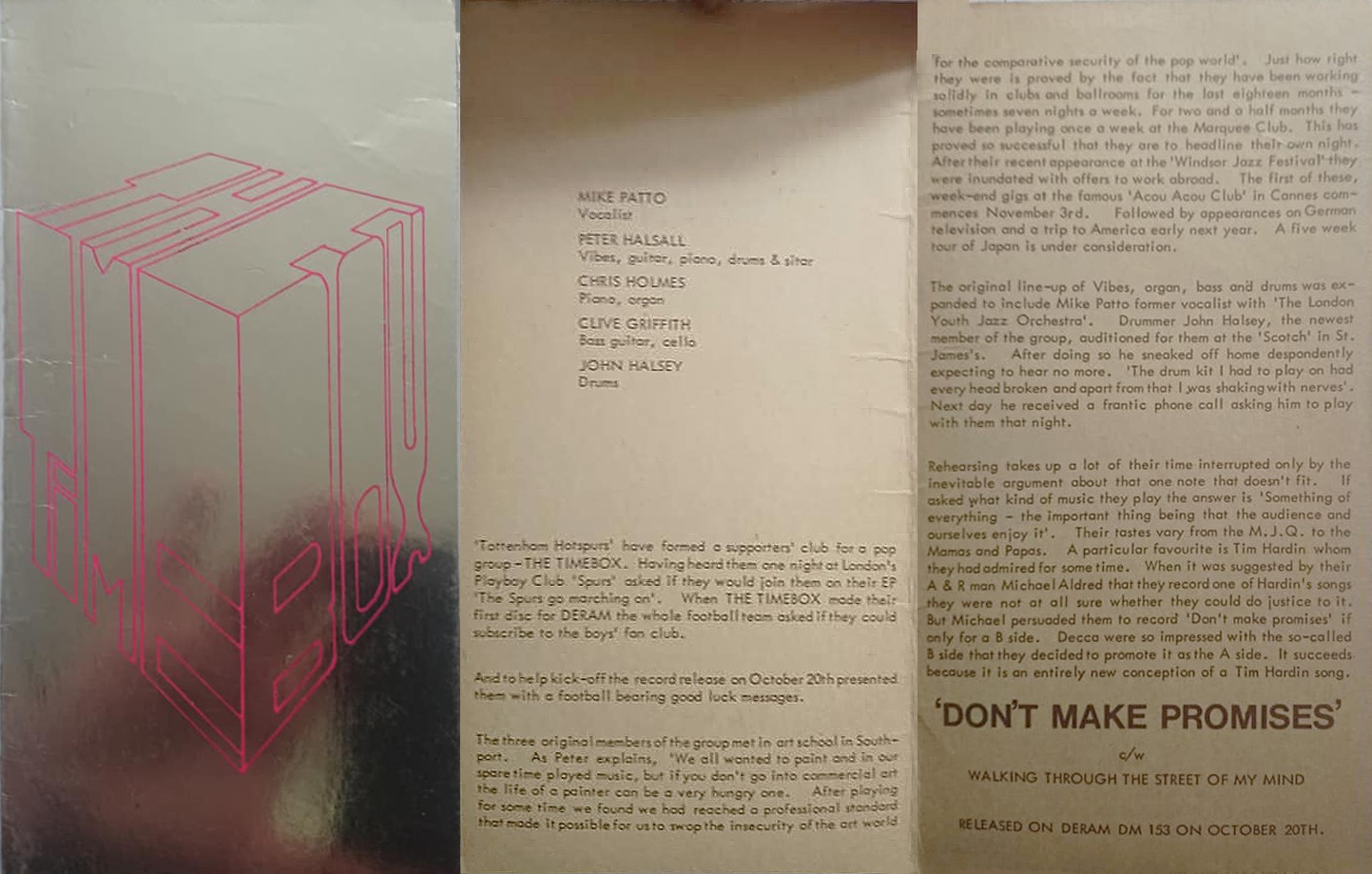 Timebox publicity leaflet. Clive Griffiths: Cello?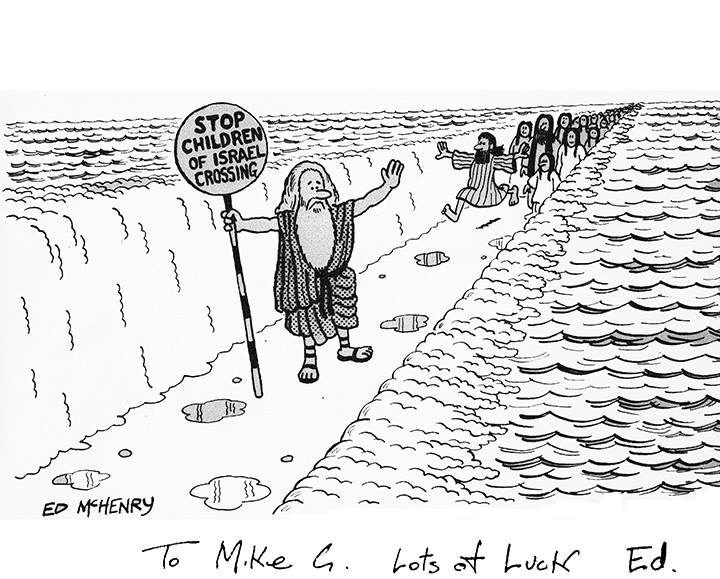 Cartoom by Eddie McHenry - immortalised in the Timebox song. Presented to Mik Glasser in 1970

An Afternoon in the Drawing Room