Hound Dog
I Saw Her Stnding There


Push Push

Metropolis

Violent Elation

Marie Celeste
[aka Senses]
Al Suelo Coño

Jerry Hart was the regular guitarist. He was an Offbeat as were Hamish, Jordi & Pedro. When the Offbeats morphed into the Sex Beatles Lisa became a permanent member and Ollie & Zanna stepped in when Jerry was away. Steffy Sharpstrings played guitar on a couple of gigs and Phil Shephard played Congas occasionally.

-Ian Carpenter
Formerly The Offbeats

Fica't Una Ceba Pes Cul!
Live at the Selva Rock Festival 1981

Al Suelo Coño!
Metropolis
Violent Elation
Push Push
Marie Celeste [aka Senses]
Don't Know Why | Hound Dog
I Saw Her Standing There

THE SEX BEATLES
Hamish MacDonald (vocals)
Lisa Life vocals (keys)
Jordi Ramone (drums)
Pere Colom (bass/vocals)
Zanna Gregmar (keys/vocals)
Ollie Halsall (guitar vocals)

Many thanks to Ian Carpenter for the videos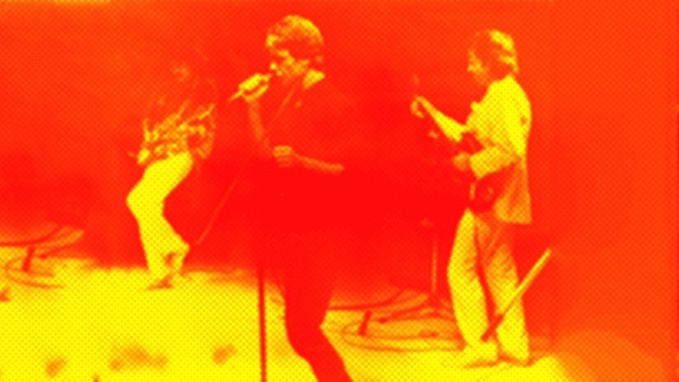 Al Suelo Coño (studio version)
CLICK IMAGE TO PLAY
The Sex Beatles show at Selva and the small gigs that happened around this Mallorquin Rock Festival were conceived around tables in the bars of Deia over bottles of Ferna Branca ('the brown stuff'), San Miguel cerveza and Deian gin, and fine Morrocan pollen.
With Ollie Halsall on leave from the Kevin Ayers Band and Jerry in the UK, it suddenly seemed a good idea at the time to take on the offer of a gig at Selva, Ollie on guitar and vocals, and Zanna, his girlfriend, on keyboards and vocals.
Lisa arrived from modelling in Barcelona and we began to rehearse some original SexBeatles material – 'Metropolis', 'Violent Elation' and 'Marie Celeste' - and improvise around a few rocking and funking themes, coming up with 'Al Suelo Cono' and 'Hold me in your arms' in the process.
We gave Ollie and Zanna part of the set to showcase Zanna's blues and Ollie's love of Elvis – 'Hound Dog'. We all agreed on covering the Beatles, and settled on 'I saw her standing there', because it has 'MARCHA!!!' (Jordi).
We were as loose in getting there as always, leaving Buda to run things as we smoked and drank our way in Pere's battered Seat and Queta's dusty village car across the island to hit the backstage at 4pm, and found Dr Feelgood already so drunk their roadies were doing the soundcheck.
We jammed on 'Metropolis' and 'Hold me in your arms' for monitor sound, and getting the thumbs-up from the out-front engineer, retired to help set up one of the Soller gang to sell badges, and then to a dressing room full of wine and cervezas.
All of Deia and most of Soller seemed to be there, it was a haze of leather and straw baskets, kif and hierba, Australians and disaffected Sollerense youth, movie stars and Spanish celebrities.
Our normal crowd from Deia and Soller, aged somewhere between 11 and 80, all seemed to have passes or have blagged their way through bouncers, the Municipal Police and the Guardia Civil. Deia We hit the stage shortly after midnight.
It was a proud moment – from the back-streets of a pequenita village in the north of the island, to headlining Mallorca's biggest rock festival. And our first number, the politically rhetorical and confrontational funk rock of 'Al Suelo Cono', brought the whole place alive.
The audience roared as we hit the chorus, picking up on the chant – "Al Suelo…" On the film made of this event, this song
comes over as the weakest number in theset, but, on that night, on that stage, we rocked; and the people, in one voice, showed that they were totally in line with the new democracy and monarchy of Spain.
Ollie said later that it was this real response that made the evening for him; we were all possessed, tearing into numbers with energy and hitting moments of spontaneity in both visual and musical performances: Lisa, most expressive on 'Marie Celeste', writhing on the stage, clutching herself, as Ollie soloed gloriously around her on guitar; the harmonies kicked in and the drums rocked solid; Pere's bass playing was inspired; and we all sang our suddenly half-remembered solo vocal lines on 'Hold me in your arms'.
The finale, 'I saw her standing there', was a wonderful moment for me, singing Liverpudlian Beatle harmonies with a Rutle - how ironic the name 'SexBeatles' suddenly seemed! The bridge – '…and when she crossed that room, and my heart went boom…' – was pure Mersey three-part harmony.
It was a joyous if punked-up rendition that left the stadium screaming. The rest of the night was a party that only Deia can guarantee – full of wine, weed, women and song, cars full to the sun-roof with teenagers and grandparents alike, streaming back round precipitous mountain roads for the last Hierbas Malloquinas in Deia.
A very drunken Buda drove all the gear over the mountains to Soller, leaving it for all to take in the van as he collapsed asleep fully dressed inside his porch. Ollie, like me, remembered nothing of the later part of the evening, other than a hit on a bottle of 'the brown stuff' at one point in the back of a car. I woke up in Zappa's house 12 hours later with no idea how I'd got there. Selva was a riot.
- Hamish McDonald

FaceBook post regarding the phrase "Al Suelo Coño!" [I thought it was something to do with General Franco - BJM]


Not Franco but somehow close. Seven years after his passing, during the perilous transition into democracy, there was a failed coup attempt. The phrase was yelled by some general (leading the sublevation) to reunited government, politicians and parliament members. It's more like a "get to the f***ing floor!", where the guy wanted them to be (and he succeeded... for a while)

-Jose Manuel Aragón Sánchez


It was a quote by Lieutenant Colonel Tejero who entered in the Parlament armed and ready to finish with the democracy

=Manuel Cebada Manuel Cebada

It was pretty scary although we were all on Mallorca at the time... If I remember correctly we were all in the studio within a couple of days of the failed coup, where we jammed and the song came to life. Hamish was especially taken by the phrase Al Suelo, Coño which became a powerful punchline that triggered the whole thing

- Zanna Gregmar


That's right Zanna! I remember us watching on Telly as the young King in all his Military garb addressed the nation and demanded that Tejero surrender. Meanwhile tanks were on the streets of Valencia and the whole country held its breath! - It was a pivotal moment for a fledgling monarchy and a crippling blow to fascism in Spain. For all of us in the studio that night it was a truly inspirational moment in time that produced Al Suelo Coño!

- Ian Carpenter: