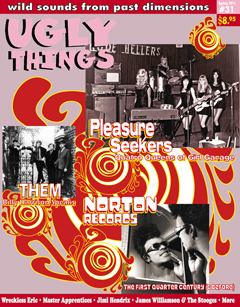 Ugly Things #31
We are delighted to have been given permission to reproduce the concluding part of Ralph Heibutzki's extensive Serendipitous & Surreal Six-Stringed Life & Times Of Ollie Halsall from US magazine Ugly Things #31.
You can read the online version here but, even better, please buy a real analogue copy! Both the back issue and the latest volume are available by mail order. It doesn't cost much more than a UK muso mag - the difference is it's far better than anything you'll get over here!
Three big cover stories dominate Issue #31. First, we have the first ever major interview with Billy Harrison, guitarist and founder member of Van Morrison's seminal R&B group THEM. Second: The Norton Records and Kicks magazine story; a celebration of a quarter-century of Norton with exclusive interviews and photos. And third: The Pleasure Seekers starring Detroit's girl garage queens the Quatro sisters. All the scoop on this great group (and their hard rockin' successors Cradle) illustrated by loads of gorgeous pix.

Plus: James Williamson in the Coba Seas and the Stooges; a revelatory no-holds-barred interview with Prince Stash de Rola (swingin' 60s confidante of the Stones, Beatles and others); a listeners' guide to Wreckless Eric, Jimi Hendrix: The Dead Hendrix albums; Cleveland '60s punks the Missing Lynx, the 40 Fingers, surfin' with the Sentinals, the final installments of our stories on the Masters Apprentices and Ollie Halsall, and lots more. PLUS our extensive review sections covering all the latest reissues, rock 'n' roll books and DVDs.
Back issue available here
Read 'Chairman' Ralph's complete Zanna Gregmar interview here:
OUR STORY SO FAR (TAKE 18):
"AND EVERYBODY NEEDS SOME MONEY"
When we last left Ollie, he'd abruptly quit during spring 1973 sessions for Patto's final unissued album, Monkey's Bum. The rationale became clear soon enough to drummer John Halsey: "He'd been offered a gig with Tempest and saw an opportunity to go and do something else, earn decent money."
Anchored by bassist Mark Clarke and drummer Jon Hiseman, Tempest kept Ollie busy well into 1974--between sessions for such disparate projects as albums from ex-ELO bassist Michael D'Albuquerque, and the Jesus Christ Superstar soundtrack.
In January 1974, Ollie even released an instrumental single as Rusty Strings, redoing a Jerome Kern song ("Can't Help Lovin' That Man"), with an engaging original ("Medium Twist") tucked away on the B-side. Nodding to Les Paul, Ollie recorded the songs at slower speeds, which made his guitar sound faster when played back normally. Having seen this technique during the Patto-era, producer Muff Winwood wasn't surprised that Ollie wanted to try it again. "I've got a whole pile of songs at home, that we did like that. I've listened to them recently, and they're really not that good," Winwood asserts. "Now, you can do it [the technique] so much easier, and quicker, it's not even clever anymore--in those days, it was all so clever."
Tempest released its second album in February. Ollie made a strong contribution to Living in Fear, writing or co-writing four of its eight tracks. The album remains best known for its take-no-prisoners cover of the Beatles' "Paperback Writer"--a fitting connection, since engineer Geoff Emerick had also done many a Fab Four session.
Unfortunately, Tempest imploded shortly afterwards, but Ollie found a more appealing job in May as lead guitarist for Kevin Ayers - with whom he'd remain for 18 years. They'd cemented their relationship that winter, when Ayers needed some wild guitar for "Didn't Feel Lonely ('Til I Thought About You)," which appeared on his fifth Island Records album, The Confessions of Dr Dream and Other Stories. With someone else fronting the band, "you don't have to do any writing, or singing, or performing, all you have to do is stand there and take the solos and play," Ollie explained to readers of Melody Maker's July 13, 1974 issue.
"He never really went too over the top with the stuff that he did with Kevin - not on record, apart from 'Didn't Feel Lonely,'" Barry Monks says. "After that, all the solos are very disciplined, very arranged, quite beautifully done. When he played live with him, he'd do some incredible stuff, obviously."
Indeed, as June 1, 1974 bears out. Hyped as a cult heroes' live summit, John Cale, Brian Eno and Nico made do with four songs between them, with Ayers getting five, but it's Ollie's soloing that carries the night, shifting from lyrical ("May I?"), to moody ("Stranger in Blue Suede Shoes"), and searing ("Shouting in a Bucket Blues").
Ollie's studio abilities knew no limits, as ex-Third World War guitarist Terence Stamp discovered during the October 1974 sessions for his Fatsticks album, at Morgan Recording Studios, in north London. Producer Roger Cook wanted Steve Marriott, who, being too busy, suggested Ollie.
Though he knew nothing of Ollie's work, Stamp got the idea after they recorded the first songs, "Motor Head," and "Itchy Feet." "His guitar playing was out of context with the norm," Stamp recalls. "Most people, like myself, were based in the Chuck Berry style. The way he transposed that vibe work, those notes, those scales, and just switched them to guitar is part of that unique style of playing that he had."
But Cook had other ideas. "On that Monday, they called Ollie upstairs, and played him a Montrose album, to get that Montrose sound. But, if you listen to Fatsticks, he must have gradually gone back to the sound he wanted, because it isn't [like] Montrose," Stamp says, laughing. "He didn't say anything, because I think everybody was paid £1,000, which was quite a sum of money back then. And everybody needs some money."
Bassist Jim Avery, Stamp's Third World War writing partner, recalls "Itchy Feet" starting from a riff that he instigated with Tony Newman. "Lots of things went down that we didn't really know about. We did it in rehearsal, and it was a real raver," Avery says. "We did it in the studio, and Cook said, 'No, we can't have this.'"
The next week, Stamp found Avery's place taken by Herbie Flowers, a fixture of T. Rex's twilight years. Ironically, Cook used "Itchy Feet"--guide vocal, unfinished lyric and all--on A&M's 1975 release of the album. Gone were most of Avery's basslines--redone by Alan Spenner--but he did hear himself on "Itchy Feet."
"It sounds like a mismatch--like, things have been stuck in," Avery contends. "It's chopping and changing, and never actually finding the winning formula that he's [Cook] looking for. I mean, it's just my opinion. Different record producers have different ways of doing things."
Stamp saw something else happening as the sessions wound down. "By the time Ollie got to the Friday or Saturday, him and Newman are just stripping the clothes off each other," Stamp says. "I just got out of there: 'OK, see you all later...'" Stamp returned to driving a truck, just as he'd done before the sessions, swearing off the music business until the '90s, when he and Avery resumed their collaboration. But that's another story.
OUR STORY SO FAR (TAKE 19):
YOU HAD TO BE THERE
In January 1975, Ollie and Tony joined Ayers for a European tour, with keyboardist Zoot Money, and bassist Rick Wills. "It was a good, good rock band. Kevin loved it. It really was a nice experience, but the drinking and the drugging were absolutely phenomenal, you know," Tony says.
One night in Spain, everybody played the infamous drinking game of "Cardinal Puff" with Bull's Blood red wine. "We were supposed to go to this big dinner that night, and everyone passed out! We didn't make it out of the hotel bar, any of us," Tony says. "It was all over."
In Switzerland, the boys unwound with a lowbrow costume party. "I went as 'Bin Man,' so I put a [garbage] bin over my head, with a face [drawn on it]," Tony says. "George 'Zoot' Money had 'Squig Kid.' We had a toilet brush strapped to his head, with a squigger, and toilet paper. We went to this five-star restaurant to eat, they escorted us out of there, and that's all I remember about that. There was all that, going on all the time."
Some band members had less patience for these antics. "You notice, I haven't said much about the music, but the music was dynamite," Tony says. "I loved Ollie's playing, and we'd just have a great time. Of course, George Money would get on his case. He would always be saying, 'Ollie's all right, for about three weeks, then he's just flaky as can be.' You'd never really know it, because I used to talk to him a lot about stuff; we never really had any short conversations."
Once the tour ended in March 1975, Ayers's merry men needed other work. For Ollie, that meant calling Mike, now doing promotional work for Nigel Thomas's latest venture, GoodEar. Other than the odd project--such as Spooky Tooth's final album, The Mirror--Mike's musical activities had tapered off considerably, which he yearned to rectify.
That wish came true when Patto reunited on May 15 (Dingwalls), July 13 (The Torrington) and July 25 (The Black Swan), to raise money for roadie Erik Swain, who'd been murdered while vacationing in Pakistan with his family.
The itinerary also included a trip to the former Yugoslavia, where Swain was harvesting marijuana that he planned on smuggling back to Britain. But a run-in with Pakistani mountain bandits ended those plans, says former Patto road manager, John Taylor. "They started shooting from a long distance, and hit Erik a few times," Taylor says. "She [Swain's wife] got hit in the legs a couple times, but was OK. A couple truck drivers came by, and they were armed as well, so they started shooting back, and these people buggered off. By the time they got Erik to hospital, he died. But it wasn't [over] a drug deal."
In any case, the gigs sold out quickly, forcing the unfortunate to listen outside.
Barry Monks caught the London gigs, with the Torrington yielding the last bootleg. Amazingly, it's one of just two complete shows that exist.
Alas, Monks doesn't think the quality is release-worthy. "If you were there, it sounds fantastic," he says. "If you weren't, it's difficult to make sense of it, especially when the last [part] is comprised of things like [Johnny Kidd & the Pirates'] 'Shakin' All Over.' They used to do 'Shakin' All Over' at a low volume, almost acoustic version, finishing with Ollie leaping from a table in the middle of the audience back onto the stage, to play the last note. You had to be there."
OUR STORY SO FAR (TAKE 20):
ROCK'N'ROLL'S LAST CALL?
In August 1975, Ollie's new band--now called Boxer, with Keith Ellis (ex-Juicy Lucy) on bass--began rehearsing at De Lane Lea studios. "It was almost as if they were trying to do it properly," Monks observes. "It was very professionally organized. They even had lights, a sound crew, the rostrum for the drummer, and the dry ice machines, everything."
Behind the surface, however, lay "a last call for rock'n'roll," as Tony sees it. "There was a melancholy and a darkness about it. You know, if you were doing the amount of drugs we were doing, it's gonna get pretty bloody dark."
Helen Newman remembers those nights well. "They were all getting pretty loaded," she recalls. "Ollie drank, Keith drank, Tony drank, so they were awful for each other. And mostly, I would join in; who wants to be around these people sober? So, for me, it was very sick as well. I didn't need to be doing all that, but I did. I always saw myself as one of the lads, so whatever they could do, I could do."
Keith's wife, Deborah Ellis, entered this madness when Mike and Ollie picked her up at Heathrow Airport in the summer of 1975. While she'd been a touring guitarist herself, nothing prepared Deborah for Ollie and company's newfound "Hitler rages"--essentially a cue for food to start flying, furniture to get thrown, that sort of thing.
These outrages typically occurred in high-end restaurants, but not even the Manor--where Boxer recorded its debut Below the Belt--was safe from them, either. "Here's this gorgeous place, this humongous dining room--they had this Hitler rage, and the whole table went up in the air, and onto the floor. I mean, it was just insanity," Deborah says.
Still, the recording proceeded in reasonably businesslike fashion. "They were like kids in a candy store," Deborah says. "They were so happy, and I'm glad, because only one person [Newman] remains, so it was a very important time in these musicians' lives."
Unfortunately, Below the Belt (Virgin V 2049, January 1976) became remembered for the boxing glove shrouding its nude model's genitalia, not the music, which downplayed the pyrotechnics of yore for a crisper, harder-rockin' approach. The first single ("All the Time in the World") featured no extended soloing--proof positive that Mike and Ollie put the songs first.
For Tony, the cover controversy--which eventually forced the addition of a belt around the lady's waist--crystallized his growing doubts about their management. "Nigel Thomas's business style was rather different to what I'd experienced before, you know. He had always had legal cases going, always lots of stuff going on," he says.
"I thought the adverse publicity was great," Helen maintains. "But, you know, England can be very prudish as well. Nowadays, nobody would think twice about [a cover like] that. Do you know, I found an old sweatshirt with that [image] on the front?"
OUR STORY SO FAR (TAKE 21):
A LITTLE BIT OF BLOODLETTING
Rightly or wrongly, reviewers smelled desperation in Boxer's approach. In pure commercial terms, Mike and Ollie were seeking a second chance that many of their peers weren't getting--though their manager hadn't produced a major success since losing his biggest act, Joe Cocker.
Barry Monks suspects that Ollie's heart wasn't in the exercise. "On the surface, it was a much more professional thing, but the root of it was still just Ollie and Mike looning about, you know?" Barry says. "In a way, he [Patto] was a bit stuck with Ollie, who was a bit of a maverick, and obviously had no interest whatsoever in becoming a star."
A live tape taken from Boxer's February 21, 1976 Roundhouse gig tells Tony all he needs to know. "It was quite amazing to hear what we had done with 'Shooting Star,' things like that. It was just a jam band, you know, 'cause we were all so bloody out of it, that's why," he says. "What we had was well-played, and had some of 'it' [the chemistry]; it wasn't commercial enough, it wasn't bright enough."
With Britain looking like a brick wall, hitting America seemed the next step. Yet Boxer would never play a single date there, once Mike heard some devastating news about his health. "We were carousing around the clubs every night. We'd rent a yacht, go to Marina Del Rey and sail out there," Tony says. "We thought we were like Errol Flynn. We'd hang out with all the Hollywood stars, but it was all very dark, because Patto had got cancer."
Back in London, another horrible surprise awaited. "My contract, and Ollie's contract, had been canceled by Nigel Thomas. He'd impounded my drums, so I couldn't have a drumkit," Tony says. "Ollie didn't have a guitar, or any amps, he'd taken the lot. That was the end of it, for Ollie and I."
While Tony readily accepted an offer to join the T. Rex touring lineup, Ollie returned to sessions--though he wouldn't even own a guitar again until 1981. And other difficulties loomed; punk rock had swept Britain, driven by provocatively monickered combos like the Sex Pistols and the Clash, who shared a bill on July 4, 1976, at Patto's former stronghold, the Black Swan.
Raw simplicity was in; progressive eccentrics like Kevin Ayers were fast going out of fashion, though Mike's and Ollie's wildest nights might have given many punks pause. "They were one of the old school, weren't they?" Monks says. "But in 1976, anything from the '60s was really just dismissed, you know?"
A generation of virtuosos vanished overnight, although Deborah Ellis felt hard-pressed to understand the phenomenon. "Me and [Sex Pistols lead singer] Johnny Rotten, he used to stand next to me [in clubs], and spit on the floor or my shoe. I'd be, 'So what? I hang out with four guys who are so much more insane than you could ever be, and it's real!'" Deborah laughs.
With Mike as the only holdover, a reshuffled Boxer plodded ahead, but the punk-barmy Brits ignored its next album, Absolutely (Epic, 1977). Soon, Mike was too stricken to continue as a musician, though he put his best face forward--right up to his death from lymph cancer on March 4, 1979. That same year, Mike's last hurrah came out in Bloodletting (V 2073); recorded around the same time as Below the Belt, it's best known for another notable Beatles cover ("Hey Bulldog").
No matter. Looking at Below the Belt's expansive gatefold photo is a haunting experience, at times, for Tony Newman. "It has the stigma of such sadness in it, no one wants to touch it, you know," he says. "Nigel Thomas is dead now, and everyone's dead, who was ever involved in it. Maybe it's just one of those things, that you leave it alone."
OUR STORY SO FAR (TAKE 22):
WHERE DID I GO RIGHT?
During the summer of 1977, Ollie joined Neil Innes, John Halsey and former Beach Boy Ricky Fataar to record songs for the classic Beatles parody film, All You Need Is Cash (1978). It's tempting to imagine how Ollie would have fared as the Rutles' Dirk McQuickly, whose parts he played, and sang, but the producers opted to cast Eric Idle, who hatched the Rutles with Innes. Ollie's bit was cut to a blurry photo of "Leppo," the unheralded "fifth Rutle."
By December 1977, Deborah returned home, wearying of Britain and the drug abuse overtaking her friends. "It scared me, so I got the hell out of there, and paid for Keith to come back with me, because he was my husband," she says.
Keith Ellis died as he'd lived, following an accidental overdose in 1978, while touring Germany with Iron Butterfly. This occasion marked one of the last times that Deborah spoke with Ollie, "'cause I remember talking to all his friends--people were calling me from England," she sighs. "And it was a drag."
[continued . . .
. . . continued]
"Up against it" financially, Ollie joined Gary Glitter's band, only to get sacked after some violent arguments. A welcome distraction emerged from jamming with singer-songwriter John Otway, who'd gotten a five-album deal with Polydor Records off his 1977 hit, "Cor, Baby, That's Really Free.
""I don't remember it being too much of a down period," Otway asserts. "I remember going 'round his house, we had a tape recorder, and we'd sort of knock all these demos together. That was when he gave me that tape, the one you've heard."
"That tape" became Caves, released through Market Square Records in 1999. Apparently using borrowed equipment, Ollie produced a strong, multi-tracked series of originals like his wistful McCartney-ish ballad, "Traveling Show," and the unsettling "Summertime Kids," whose "paint your eyelids" reference makes clear that he's not talking metaphorically. A more complete statement is harder to imagine, since Ollie plays all the instruments, too. For Barry Monks, it's a fascinating and frustrating exercise to consider what Ollie might have done, had these songs become a solo album. "He could play perfect riffs--organize choruses, verses, arrange--which he never really seemed to want to do with his own stuff," he says.
Ollie graced Otway's next effort, Where Did I Go Right (1979), and live dates, joined by John Halsey, who didn't play on the album. "It wasn't really a tour," he maintains. "We all got the push on that, because Otway wanted a band that kept falling to pieces, where guitar strings kept breaking, amplifiers kept falling over. In the end, he went to New York and toured."
In Otway's eyes, the economics simply favored a duo, which turned into "a pretty comprehensive tour" that included New York, Toronto and the West Coast. "I remember New York being particularly good," Otway recalls. "I think Ollie was meeting up with [Brian] Eno. They were hanging out a bit together. Chris Spedding, I seem to remember him around as well. A lot of people came out, specifically because Ollie was doing it."
OUR STORY SO FAR (TAKE 23):
BUSY TURNING INTO A PUMPKIN
Back in Britain, Ollie looked to form a trio with Halsey, whose own phone was ringing less often. "I was struggling to earn a living. I was doing some jingles and recording sessions," he says. "We got involved with a Viv Stanshall album, Teddy Boys Don't Knit [released in 1981]--that was pretty good. It was done very, very quickly, and we didn't get a lot of money for it."
The scene at Abbots Langley--the large, sprawling house that Ollie had bought, in happier times--struck Halsey as emotionally and financially arid. Ollie's marriage was imploding, due to him squiring a 14-year-old girl, in full view of his family, and that was before the monthly bills reared up.
"They had no running water, no electricity, no gas," Halsey says. "He had no telephone, didn't own a guitar, couldn't drive, didn't own an amplifier, and couldn't understand why he wasn't working! There he was--no means of getting anywhere to work, 30 miles outside of London, and no money, you know? It was wild."
Released as Abbots Langley (Market Square, 2007), these 1980 sessions feature some spirited punky originals, as well as three jingles for Marietta's Pizzas. This was Ollie, stylistic chameleon for hire, though the jingles never got used, so the musicians never got paid.
"He played this horrible star-shaped guitar that was Gary Glitter's. What we wanted was a bass player who could sing. We advertised in Melody Maker, and things like that," Halsey says. "Nobody was interested, we never got anybody--and that was the end of that, really."
Ollie had drawn the same conclusion. A tour offer came from Sweden, where former Music Students bandmate Bill Lovelady was riding a hit single, "One More Reggae for the Road," which reached #1 there in July 1980, en route to a 12-week run."He was an old friend of Ollie's, from Southport," Halsey says. "Ollie said, 'I'll see you when I get back.' Off he went, left Susan--the young girl who lived in the house--went to Sweden, and never came back, basically."
Swedish singer-keyboardist Zanna Gregmar was among those called for pre-tour rehearsals in London. "What really triggered our friendship was our mutual knowledge of George Formby songs," Zanna says. "Ollie had never come across anybody else who knew these songs. We used to try and outdo each other with our repertoires of 'Our Sergeant Major,' 'Window Cleaner,' 'Snapshot Album,' etc."
On the road, Ollie "was always up to some mischief or other, especially after a couple of pints," Zanna adds. "He did silly stuff, like following artists around in mid-performance if they left the stage to connect more personally with the audience. It was not a very nice thing to do, but he was very, very funny."
When the tour wrapped up, Bill relaxed with Ollie and Zanna at her old hometown of Landskrona, Sweden. Shortly before Christmas, Ollie returned there, "and joined my band," Zanna says. "We did a load of gigs, and Ollie spent a lot of time fishing. He also managed to learn a few fishing-oriented phrases in Swedish, to everyone's delight!"
OUR STORY SO FAR (TAKE 24):
ANOTHER SATURDAY NIGHT iN DEJA
In May 1981, Ollie and Zanna followed Ayers to Deja, a small village on the island of Majorca, off the Spanish mainland. Now Ollie was living on an island, fulfilling the scat-sung yearning he'd voiced on his Caves-era lament, "Back Against the Wall." Few homes had electricity in this environment, where residents bought their own gas and water in separate canisters. These things didn't faze Ollie, who "really loved this basic lifestyle!" Zanna says. "For awhile, I believe it worked wonders for his whole nervous system, and he was calmer and more at ease with himself than at any other time."
Deja has welcomed all sorts of creative types, most famously, the poet Robert Graves (whose son, Tomas, also played with Ollie), along with actor Pierce Brosnan, author DH Lawrence, and former Animals frontman, Eric Burdon (whose autobiography refers to "Ollie Halsell").
Signs of a creative boom were unmistakable in Spain, whose nearly 40-year dictatorship finally ended with Franco's death in 1975. "Everybody was amazed at what they were allowed to, and trying to achieve," Zanna recalls. "Everybody was reaching for a bit of assistance from the free world, I think!"
The scene also struck Zanna as "extremely chauvinistic," where people often labeled her "Ollie's woman on keyboards." "I found that quite hurtful," she says. "I believe I was the stronger songwriter out of the two of us, and Ollie actually sold some songs that we had co-written, in his own name only!"
Ollie and Zanna later based themselves in Madrid. Between Ayers tours and albums, they rehearsed, produced and wrote for outfits like Spain's first notable punker, Ramoncin; the Sex Beatles; and Cinemaspop, a techno act that scored four Top 10 Spanish hits.
For UT readers, this period merits less interest since Ollie's distinctive guitar work is barely evident. Monks notes: "I find it very hard to listen to. It all sounds very middle-of-the-road, very lounge bar stuff, sort of cod Latin, you know?" Zanna suggests that the blame lies closer to home. "Ollie's productions were always severely lacking in bottom, for my liking. He made wonderfully heavy rock bands sound like little pop bands. We always argued about this."
Yet Ollie's creative chops never ceased to amaze those around him, as Cinemsapop's producer found out. When he needed more material, Ollie and Zanna responded with 34 songs in one week! "He could play and sing songs when he had only heard them once or twice, sometimes 20 years ago. This last ability also turned him into a tyrant, since he expected everybody he worked with to have the same ability," Zanna says. Not surprisingly, this quality didn't endear Ollie to his fellow musicians; Ayers nicknamed him "Hassle," "and I'm not going to tell you mine," she adds. Zanna also finds the prevailing description of Ollie's self-effacing nature amusing. "For instance, if I or somebody was on a roll with a solo, Ollie would immediately start a 'duck walk'--and, of course, he did a great one--or some other visual spectacle, so that attention was taken away from the musician!"
However, these same qualities paid dividends. Zanna recalls an Ayers gig in Belgium, or Holland, where the power died, forcing the band to fill time by playing acoustically. Then Ollie took center stage, with a 10-minute version of Lord Buckley's "Jonah and the Whale." "You could have heard a pin drop, and he received huge applause at the end!" Zanna says. "Then it became clear we wouldn't get the power back on, so we invited everybody back the next day, and that gig was a great one. So, on that occasion, I think 'Hassle' saved the gig."
OUR STORY SO FAR (TAKE 25):
GOING FROM CALYPSO TO COLLAPSO
The Ayers roadshow rolled through the '80s--although without Zanna, who left for Hollywood in 1985--with Ollie ever at his friend's side, playing for diehards not the least concerned about their hero's commercial prospects.
Ollie's British ties remained confined to his live work there, though he always found time for other ventures, such as a week-long April 1991 run at London's Bloomsbury Theatre, to celebrate the artistry of ex-Bonzo Dog Doo Dah Band frontman Viv Stanshall. The occasion marked the last time that Ollie saw Halsey, who'd largely forsaken music for the pub trade and now found himself in a 10-piece band that hadn't rehearsed with its featured artist. The first night set the tone, when Stanshall called out a tune, "Calypso to Collapso," not on anybody's sheet music stand. "He just sort of started singing, and I started playing along, because I knew the song," Halsey recalls. "Everybody started playing along, trying to follow what the hell was going on. Nobody knew. This whole evening was like that. It was just chaos."
Former Cream bassist Jack Bruce resigned after that night. To restore order, his successor, Pete Moss, imposed a setlist, which he ran down, minus Viv, to everyone's satisfaction. Morale improved dramatically, though Ollie's daughters, Andrea and Allison, tasted disappointment after the shows ended. "Apparently, he said, 'Oh, I've gotta go,' and rushed off," Halsey says. "It was the longest spell they'd had of not seeing him, and he just didn't have any time for them." Halsey remains puzzled, because Ollie had voiced excitement about seeing his children, at least initially.
Ollie's musical relationships fared better. Like many cult figures, Ayers's mid-'80s output had struggled with production values that didn't suit his style. With Falling Up (1988), the "back-on-form" reviews resumed, and continued on the largely acoustic Still Life with Guitar (1992), his last work with Ollie. Their final shows came on April 28 and 30, 1992, at London's Shaw Theater.
Barely a month later, Ollie died from a drug-related heart attack on May 29, 1992, in Madrid. His flatmate at 13 Calle de la Amaragura ("Bitterness Street") found him the next morning.
A stunned John Halsey got the news from Tubular Bells producer Tom Newman, who'd heard it from Ayers, and Spanish musicians' circles. He soon found himself pressed into tracking down the relevant people in Ollie's life, including his estranged family, so they'd know what happened. "I can't even remember how I started off on the trail now," Halsey says. "I know I was on the phone nearly all day. I eventually spoke to some guy in Madrid, who didn't speak any English. I don't speak any Spanish. This guy was pretty distraught, telling me in his broken English that Ollie was dead, he'd found him, and all this sort of thing."
On June 9, 1992, Ollie's friends laid him to rest at Cementiri de Deja, appropriately, next to Mati Klarwein, who'd painted Miles Davis's Bitches Brew and Live/Evil album covers. The Musicians Union paid the costs. The prior week saw Ayers complete a four-date Japanese tour with another Kevin (Armstrong) on guitar; he would not record again, until The Unfairground (2007).
So what happened? According to Barry Monks, the consensus seems to suggest "tragic accident." Ollie had joined another topflight Spanish band in Radio Futura, whose bassist was allegedly heavily involved with heroin. Not having touched that particular drug, Ollie "was asked to look after him, keep him off the hard stuff," Monks says. "In fact, it went the other way, and this guy got Ollie on it, for the first time in his life. And he overdosed. That was all in just a few weeks, after not even touching anything like that before."
In many respects, Ollie's life comes across as messy and unfinished, yet many who witnessed his reckless behavior weren't the least surprised. Taylor recalls one mad night after a gig, when Ollie demanded to take the wheel of their van. "He drove it into a tree, and totaled the van," Taylor laughs. "My knee wrapped [around] the dash; I was limping about for three months. You know, there were great things, highs and lows: amazing things happened with him." Yet he never entertained any illusions of Ollie reaching a ripe old age, saying, "You never thought you'd be always around him."
The emails from Genesis's drummer-frontman Phil Collins tell Halsey just how far Patto's influence has rippled; he only wishes those accolades had come sooner. "It's just quite amazing, but these people are out there," Halsey says. "I had a car accident [in 1983] with Clive [Griffiths; Timebox, Patto]. Phil Collins is saying if he'd have known he would have done anything to help--fantastic compliment after compliment, but it doesn't put money in your pocket."
Zanna Gregmar suspects that Ollie's demons stemmed from low self-esteem, coupled with an inability to talk about them openly. "He desperately needed reassurance, even though he was well aware of his own skills and talents," she says. "I believe the secret behind his tremendous creativity was this great connection with--and I hesitate to use the phrase--his 'inner child,' which was to be found in other areas of his life, as well."
Tony Newman wonders what might have happened if they'd verbalized such things. "We didn't recognize this [tendency] then; it was just, 'Boy, he's in a mood tonight,' or, 'He's very quiet.' Today, his doctor would say, 'Let's get you on some medication, get you stabilized, start living the joy of your life--without trying to kill yourself with alcohol and drugs!' But, back then, we didn't know what else to do."
Forty years after working with them, Muff Winwood is amazed to see how brightly Patto's flame burns, considering the fact that the band's first album sold just 5,000 copies: "In this world, where albums sell millions, Patto achieved zilch. And yet, I go to places around the world, and somebody will say: 'You're Muff Winwood! Ah, Patto's my favorite band!' Patto? How did they hear Patto?"
In another time, though, Patto might have become "amazingly big," and Ollie, "one of this country's most talked-about guitar players--what a missed opportunity," Winwood asserts. "Many people didn't get that opportunity to understand who he was, and that's the one thing that always upsets me. He didn't push himself in any commercial way. It's part of the problem, but it's now become part of the folklore."
Yet Ollie's musical legacy is secure; a wealth of material awaits people ready to dig beyond the Beck-Clapton-Page guitar trinity. The Ollie Halsall Archive averages about 200 hits per day, Monks notes. Not bad for someone who never joined his Led Zeppelin or Yardbirds peers as household names.
As for what Ollie might be doing nowadays, Monks is only sure that change would have been part of the equation. After the Shaw Theater gigs, he remembers chatting briefly to "a very positive and upbeat" Ollie, who expressed notions of doing a solo album. "He was the finest guitarist I've ever heard, apart from Jimi Hendrix," Monks says. "As to why, it was just his humor, his creativity. I mean, you could demonstrate through listening to some of the solos, can't you, really? People always talk about it, but it was just amazing."
Like many who knew Ollie, John Taylor would share the experience again--and carry a tape recorder to capture those nights "that nobody's ever touched, or is likely to, again," he says. "You can't imagine how much I enjoyed my work, watching this band. Ollie just did things--you'd think, 'God, did I just see that?' Not only that, it didn't happen once a night, it happened several times a song. But there are those guys who are just the real genuine article, can't get away from it, and can't do anything about it, even if they wanted to. Although he didn't ever get anyone to put it all together for him, he was one of those talented guys that you'll come across in a lifetime."
© Ugly Things magazine 2011.
The author would like to thank Jim Avery, Deborah Ellis, Zanna Gregmar, John Halsey, Barry Monks, Helen Newman, Tony Newman, John Otway, Terence Stamp, John Taylor and Muff Winwood for their time, and insights...where did we go right, indeed?
---