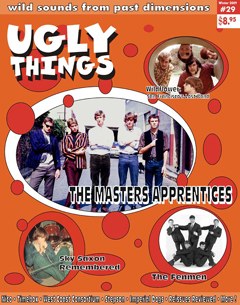 Ugly Things #29
We are delighted to have been given permission to reproduce part one of Ralph Heibutzki's extensive Serendipitous & Surreal Six-Stringed Life & Times Of Ollie Halsall from US magazine Ugly Things #29 .
You can read the online version here but, even better, please buy a real analogue copy! Both the back issue and the latest volume are available by mail order. It doesn't cost much more than a UK muso mag - the difference is it's far better than anything you'll get over here!
"Our biggest and best issue yet! 224 pages. Our top cover stories include a huge feature on Australia's mighty Masters Apprentices as well as a tribute to the late, great Sky Saxon of the Seeds. We also have in-depth stories on '60s beat group The Fenmen (featuring pre-Pretty Things members Wally Waller and Jon Povey), UK pop-psych faves the West Coast Consortium, outrageous LA proto-punks The Imperial Dogs, and seminal California garage folk-rockers The Wildflower. Also, Doug Sheppard unravels the twisted tale of '70s hard rockers Stepson, Ron Ryan reveals the juicy details of his role as the ghost writer of some of the Dave Clark Five's biggest early hits, and Phil Milstein relates his experiences with doomed junkie chanteuse Nico. All this plus Midwest garage combo The Nomadds, Ollie Halsall and Timebox, French Riviera punks Dentist, garage girls The Bittersweet, The Remains, The Shadows of Knight, and an exclusive chat with Tony Cahill of The Easybeats. Not forgetting our famously extensive review section covering all the latest reissues, and R&R-related books and DVDs."
Back issue available here
Rock 'n' roll has never been a meritocracy, so it's hardly surprising that compromise adds zeroes to paychecks. As any musician who's felt the calling is acutely aware, today's hottest flavor often becomes tomorrow's cutout fodder-which comes as a cold consolation, then, for those whose names don't crop up among the immortals.
Still, by all rights, Ollie Halsall-whose fluid, melodic lead guitar lit up many a backline behind Kevin Ayers, Boxer, Patto, Tempest, and Timebox-should have been a household name like Jeff Beck, Eric Clapton, or Jimmy Page, plying their six-stringed trade in assorted enormodomes around the globe.
But that's not quite how it worked out. From the 1960s through the 1990s, Ollie remained the essence of the low-key, unassuming sideman, whose unerring musical instincts would find their chief outlet in nightclubs, pubs and small theaters-a setup that, to all appearances, suited him well.
At least, that's how the situation struck Helen Newman, or "Lady H," as she became known within the Timebox/Patto set. When Helen dreamed of becoming famous, she'd wonder about how to answer what seemed like the inevitable question: "Who's your favorite guitar player?"
Thus cued, Helen expected to respond: "It would be Ollie Halsall, because people didn't know Ollie so much. He didn't seem to be going after the fame, number one. He was after the music. You know, he wasn't playing to get famous, he just had to play."
How characteristic, then, that so many pieces of Ollie's legacy are still continuing to surface, such as a crackling 1971 French TV appearance that, sadly, remains the sole surviving video document of Patto's explosive concert alchemy. Yet this state of affairs is hardly coincidental, as '60s keyboard legend Zoot Money suggests: "Becoming 'a household name' has far more to do with whom you associate yourself on both a business and musical level, than it does with the musician's desires. Ollie never tolerated arseholes, opportunists or morons. So the question never arose."
Barry Monks, creator and curator of the Ollie Halsall Archive, knows the feeling well. "I remember playing [Patto's 1971 album], Hold Your Fire, to a friend: 'Yeah, but he fluffs too many notes' [makes some errors] I thought, 'I know that, but that's not the point.'"
Yet Ollie's work did not happen in vain; far from it. Two decades after friends laid Ollie's ashes to rest in June 1992, on the Spanish island of Deja, the groundswell around his legend only continues to grow, as shown by the objects-invariably, guitar knobs, or picks-left on his cracked headstone. These visitors already know what drummer John Halsey, Ollie's bandmate in Timebox, and Patto, has maintained for years: "Ollie may not have been the best guitarist in the world, but he was certainly among the top two."
Helen's ex-husband, drummer Tony Newman-who worked with Ollie during the hard-rockin' Boxer era-goes further still. "If you're on that radio station, the same station he's on during that performance [of a guitar solo] you'll see where he's coming from, and you'll love it," Tony says. "If you're not on that plane, you won't-I mean, it's just one of those things."
---
OUR STORY (TAKE ONE): JUST JERKIN' LIKE UNCLE CYRIL
Imagine the story unfolding, then, like some grainy black and white '60s period movie, with the opening credits panning over a wide-angle shot of Southport, the northwest coastal city known for tourist attractions like the Model Railway Village; Southport Pier; and Pleasureland, a fairground and amusement park that operated, uninterrupted, from 1912 through 2006.
Now, cut barely 15 miles up the road, to neighboring Liverpool-whose mid-'60s status as Beatles Central exerted a powerful gravitational pull on youth hoping to buck the nine-to-five grind. These daydreamers included Peter John Halsall (born March 14, 1949), whose dropped-h pronunciation of his surname resulted in the nickname forever identified with him; "Ollie." At seven, he first tinkered with a guitar owned by one of his older sisters, as well as piano. However, the drums became Ollie's first instrument, which he began playing around 1962 in local area combos like Peter & the Pawnees, Rhythm & Blues Incorporated, and The Gunslingers.
By most accounts, Ollie's earliest influences included Buddy Holly, Elvis Presley, and Gene Vincent-with whom he became acquainted, via his sisters' record collections-as well as the Beatles, whom he saw several times in Southport, and retained a lifelong fascination. Ollie's future took shape when he quit art school at 16, and moved to London to begin the musical career that would take him around the world many times over-a feeling that he captured in his haunting McCartneyesque ballad, "Traveling Show": "I just go, New York, Paris, and Rome." (The song can be heard on the 1999 reissue CD, Caves.)
The move coincided with yet another transition-from self-effacing drummer of the Music Students, to master of the vibraphone, an instrument more typically associated with jazz masters like Gary Burton. Indeed, Ollie's penchant for making any instrument sound as if he'd played it for all his life-from drums, to guitar, sitar, keyboards, and even saxophone-would serve him well throughout his career. Take the vibraphone, for example. It's a story that John Halsey has told often, and one that former Bonzo Dog Doo Dah Band member Neil Innes recounted in similar fashion during a December 12, 2006 interview for Jon Kanis's "State Controlled Radio" program.
"You know, let's get analytical about it-I think, in some ways, he was kind of a gifted autistic sort of thing," said Innes, who worked on many projects with Ollie. "When he wanted vibraphone, his parents sort of said, 'Well, you don't know how to play it,' so he cut out black and white pieces of paper, and put them on his bed, and started hitting them with mallets, and things like that-and sort of proved that he was interested in it. And so, they bought one, and then, he played it immediately."
Ollie's burgeoning talents came in handy for the Music Students, whose lineup also included guitarist Bill Lovelady, (of "Reggae For It Now" fame; more about him later), and keyboardist Chris "The Professor" Holmes. With setlists that drew on soul nuggets from Bobby "Blue" Bland, Ben E King, the Impressions and the Temptations, the band cut an unusual figure to a public still caught up in the thrall of Beatlemania.
"We took a gamble, and all came to London," Holmes says. "But we were different, and we starved, basically; came to London, and found it very difficult before we hooked up with a manager, (and) an agent. And one club owner took pity of us in the middle of the West End, 'cause we were using a vibraphone. We called ourselves a rock group, but 'pop-dash-rock group' -- using a vibraphone was quite unusual."
Indeed it was, which might explain why Laurie Jay-a drummer-turned-agent, whose resume included the likes of Screamin' Lord Sutch, Dusty Springfield, and Gene Vincent-saw something in these errant hopefuls who sought him out in 1965. Only a recovering drummer, perhaps, might appreciate the vibraphone's percussive properties, particularly in a band with a growing jazz influence.
The Music Students had become Take 5, whose lineup of drummer Geoff Dean, guitarist Kevan Fogarty, bassist Clive Griffiths and vocalist Peter Liggett had weathered a troubled German tour, according to Monks's liner notes for Timebox's 1998 Deram Anthology CD; hence, exit guitarist Peter James, enter Ollie, and Chris. The band soon found an outlet on package tours behind names like Lou Christie, the Kinks, Small Faces, and Tommy Quickly-and such unlikely venues as Butlin's holiday camp, where the band performed in early 1966.
Frank Dixon had become the new frontman, but didn't last long-thanks to coming down with the dreaded lung disease of tuberculosis, a situation that many chroniclers chalk up to an overabundance of cold nights spent barreling up and down the country in drafty vans. In November 1966, the band settled on a different name - Timebox, an obscure American slang term for "prison cell." This moniker proved more appropriate than anybody realized at the time, since the new singer, John Henry, happened to be a U.S. military deserter - an unfortunate situation, since he'd already appeared on the first single, released in February 1967, on the Piccadilly label.
Credited to "The Time Box," the A-side was devoted to a remake of the Spinners' "I'll Always Love You," with Ollie's vibes playing a central role on the instrumental flipside, "Save Your Love." The single earned little attention, although back home, a Southport retailer claimed it was selling "quite well" (this, according to a clipping from Halsey's scrapbook, posted on the Timebox/Patto Fan Site, www.pattofan.com). Henry's career ended in March 1967, following his arrest after a London club gig. "It was an upmarket discotheque, as they called them then, a lot of upmarket show biz people in there-and he did the gig," Holmes says. "He rehearsed with us, you know, we had grand plans. Whether it was [for actual desertion, or dishonorable discharge, I have no idea."
Circumstances dictated the double-barreled instrumental lineup of "Soul Sauce"/"I Wish I Could Jerk Like My Uncle Cyril" (April 1967). Once more, the vibes took center stage, and once more, the band endured yet another lineup change, this time, losing Geoff Dean, also to tuberculosis (hence, the appearance of top-flight sessioneer Ronnie Verrell).
For the A-side, the boys did a Cal Tjader instrumental, while the flipside emerged at the producers' behest. "It's not the American interpretation of 'jerk', by the way-it's a dance," Holmes explains. "There was a dance called 'the Jerk,' where we invented it, basically. It was a pisstake! The producer said, 'Come on, boys, write a B-side while you're in the studio,' so-it's basically a shuffle."
That lunatic B-side has gained life from an unexpected quarter. After hearing his local BBC station use "Uncle Cyril" as music for a show hosted by Jonathan Ross, Holmes consulted the Performing Rights Society (PRS) to see if any royalties were due, only to receive an unpleasant reminder of his membership in The Bands That Time Forgot Club.
"Some of them [at PRS] are saying, 'Yes, you deserve it,' in an accompanying letter-'you'll get the money,' but, no, it's gone pear-shaped," Holmes says. "I got very upset. The lady phoned me up, and said, 'We only backtrack six months.' Very sad, that, because it's £22, English pounds sterling per play, and it's been played every Saturday for seven years."
---
OUR STORY (TAKE TWO): MR. PATTO (YER BAND AWAITS)
Like countless many bands of their era, Timebox's bread and butter focused around a full gig sheet, working a network of clubs whose names evoke the DNA of Swinging London: the Bag O'Nails, Blaises, the Cromwellian, the Scotch Of St. James, the Speakeasy, the Temple Club, and so on. This network stretched from London, the nation's natural music epicenter, to smaller cities "oop north," like Blackpool, where Tony Newman-then with Sounds Incorporated-first observed Ollie, working the vibes as if his life depended on it.
"I can remember him, distinctly, with his black hair, and, when we came offstage, I remember seeing the vibes just thrown in a heap, just like..." Tony laughs, before he can fill in the blank. Like the Who's mad drummer, Keith Moon, perhaps?, the interviewer is tempted to ask. "Exactly, that's what he thought it was like," Tony says, "so they were sort of shoveled into this van. So that was my first experience with Ollie."
As hectic as the date sheet got, however, the constant personnel shuffles threatened to stifle progress for good. The first order of business focused on finding a new frontman-preferably, one without the military police trailing every move.
Near the end of July, the solution arrived in one Michael Thomas McCarthy (born September 22, 1942, in Circencester, Gloucestershire). According to the most commonly accepted accounts, the introduction came from Jack Barrie, who'd first brought Mike to London, for an unsuccessful audition with the Robert Stigwood Organisation.
For a business brimming with colorful characters, Mike had a good deal more color on offer than most, starting with his teenage years as a dance competition winner, and amateur boxing champion. On one occasion, at least, his fistic talents proved useful "oop north," against someone heckling during a Timebox gig. "During the middle eight of the song they were playing, Mike stepped down from the stage, knocked the guy out out and returned to carry on singing the rest of the song," Mike's younger brother, Phil, recalled in an essay posted for www.pattofan.com
("Reflections From A Fellow Skyliner"). Then there's the matter of Mike's stage name, which his brother asserts came from one Johnny Patto, a guitarist with whom he'd played at Butlins holiday camp. Like many stage names, Mike's moniker served as a protective coloration, of sorts-as far as his family's privacy went-while establishing a distinctive identity of his own (especially since his surname sounded too close to "McCartney" for comfort). Compared to his predecessors, Mike was well-traveled, indeed.
During his school years, he'd sung in a skiffle group, The Skyliners, which featured Phil on lead guitar. His career began in 1962, with a pop covers band, The Fretmen (later to become the Breakaways). Mike's pre-Timebox doings could make a grand UT article unto itself. However, space compels a more succinct approach, so our account starts with the Bo Street Runners, whose name and hard-edged R&B approach took cues from Bo Diddley, and gave Mike his first major public exposure. Between the spring of 1964, and June 1966, the Runners released an impossibly rare EP-which fetches around £1,500 for a mint condition copy, according to Record Collector-and four singles, none of which aroused any great public interest.
Yet these non-successes hardly dented Mike's standing in London's clannish, fiercely competitive pop scene. This was a man who'd won a "Ready Steady Go!" talent contest, and even tasted the solo route through 45s with the Chicago Line Blues Band, and his own stab at poppy Valhalla, "Can't Stop Talkin' About My Baby"/"Love" (December 1966). Nor was Mike restricted to R&B belting. When he and his new bandmates got acquainted, Mike was singing with a 24-piece big band, The London Youth Jam Orchestra, further confirmation-if anybody needed it-of his multi-faceted abilities.
Mike's good humor, lack of pretense and confident air are only three reasons why people speak of him emotionally to this day. The cancer that would cut him down in March 1979, aged 36, was an unthinkable prospect to anyone who saw Mike in his prime-as Helen did, many times: "Patto was just mesmerizing onstage. I don't know, he was so charismatic, he was crazy. He had a great voice; he sang with such passion." Mike's gritty, world-weary vocal demeanor bore the air of a much older man who'd weathered whatever injustices life had thrown his way.
Not surprisingly, writers wrung plenty of mileage from this quality, to Halsey's amusement: "Well, he sings like he did, but it [Patto's musical history] wasn't that long! He wasn't old enough to have a long history. He'd been around a bit, yeah." Mike's commanding swagger made an immediate impact, as an August 1967 live review from the Marquee Club makes vividly clear. For Melody Maker's man on the ground, "all the action came from singer Mike Patto, of whom I can only record that he was an absolute gas," although he also praised Ollie's vibes playing on "Sketch," by the Modern Jazz Quartet, and hailed Timebox as "one of the musical pop groups on the scene." With raves like these, and such a passionate frontman on board, nothing seemed out of reach-for now, at least.
---
OUR STORY (TAKE THREE): LADY H MAKES THE SCENE Notice spread quickly among those in the know, such as Helen Newman, who'd gotten her earliest rock 'n' roll mileage as a DJ in Bournemouth, where she met David Bowie-then still doing business as David Jones & The Lower Third-as well as the Moody Blues, "all these wonderful people," she recalls. "Keith Moon used to come down a lot, because his girlfriend lived in this town, as well, who he later married-Kim [Kerrigan]."
Taking the next logical step, Helen moved to London, and became a DJ for NEMS Enterprises (the corporate face of Brian Epstein's business empire, when not preoccupied with the Fab Four). Helen fell into bit parts and modeling, as she got her first taste of a scene that made the Bournemouth one look small. "Everything was happening in London, it was quite amazing," Helen continues. "I used to hang out with Keith Moon. They [the Who] had a [road] manager called Wiggy [Wolfe], and we used to ride around London, and go to all the hip clubs. That was where I first saw Ollie, and I cannot remember the name of the flipping club!"
Helen does remember that Laurie Jay owned the venue-the Club Noreik, perhaps, a bingo hall that also belonged to his partner, Laurie Boost, where the boys rehearsed. (Boost also owned a string of greyhound betting shops, which provided him another lucrative sideline.) In any event, Helen walked downstairs, heard Timebox go through its paces, "and it was love at first sight," she says. "Of course, they would do something totally out of context-Mike would wear something ridiculous onstage. I don't know, I'm just thinking-one time he came on in tights." As for Ollie, the attraction came from another direction. "If he did a solo, or something, even if you didn't know much about music-I didn't, and my friends didn't-you knew [that] Ollie was a genius," Helen says.
Years later, long after the freewheeling madness of Ollie and company had settled into rock legend, Helen remembers taking the plunge and asking ex-road manager John Taylor: "Did everybody just think of me as a groupie?" "He said, 'Oh, no.' They all called me Lady H because there was another fan called H, and I was sort of a snootier one," Helen laughs, "so they called me 'Lady H.' He said, 'No, no, we loved you, Lady H-plus, you always had good dope!'"
Out in the real world, the band continued struggling with lineup changes. Andy Peters had kept the drum seat warm for the spring, but, before long, Laurie Jay found his percussive talents pressed back into service, at least for live gigs. Geoff Dean had returned to Southport, hoping to recover from the illness that had cut his career so brutally short. If the band were to go forward, a permanent drummer was the only realistic solution.
---
OUR STORY (TAKE FOUR): MAKE WAY FOR THE ADMIRAL Enter John Halsey-now and forever, known to fans as "The Admiral"-and, as luck would have it, well-acquainted with the Timebox manager's musical doings. "The first time I ever saw Laurie Jay, he was playing with Gene Vincent," John recalls. "All these American artists used to come over here, way before the Beatles-Jerry Lee Lewis, Eddie Cochran, that sort of genre. He used to go out, invariably, and back them. He was a good player, Laurie."
Halsey recalls his musical journey starting in 1958, with a little encouragement from Peter Rettig, a school friend who was played drums in a combo called the Black Diamonds. There was one slight hitch, however, John recalls: "I didn't have any money, nor did my parents. I couldn't afford any instruments. In theory, I was in a band with these two friends of mine that sort of lived down the road."
The dream picked up speed around 1961-62, after John's mother spotted a drumkit at somebody's house. He bought it, started playing, and joined a band in north London's Holloway area-Barry Reed & The Avengers, one of countless hopefuls looking to make their mark as the beat boom dawned. "At that time, there were bands playing everywhere-there were so many groups in England," Halsey says. "You couldn't go past a Scout hut without a band playing in there."
Once the music got more serious, so did Halsey's tastes, particularly soul bands that featured Hammond organ-playing frontmen, and horn sections, like Georgie Fame & the Blue Flames, Chris Farlowe & the Thunderbirds, or Zoot Money & the Big Roll Band, to name three relevant examples.
John began spending a lot of time at the Flamingo Club on Wardour Street, where these sorts of bands could be more readily found than anywhere else, and where every blues, jazz, R&B and soul star made a point of stopping. Not surprisingly, John's next band, Felder's Orioles-named after the Crusaders' bassist, Wilton Felder-became the vehicle of choice for his newfound musical tastes.
Formed in 1965, the lineup included another of Halsey's friends, Paul Hodgson (guitar); singer/organist Barry Huband; bassist Nick O'Brien; baritone saxophonist Rod Mealston; and tenor saxophonist Pete Newman, who'd worked with the likes of Johnny Kidd & the Pirates, Screamin' Lord Sutch, and the Tornadoes.
"This is all around Finchley, Watford, all north London," Halsey says. "Eventually, we had the band we wanted, which was a singer who played Hammond organ; guitar, bass, drums; and two sax players. We were doing [songs by] Otis Redding, Sam & Dave, all that Stax sort of stuff, James Brown. And we were playing the Flamingo Club, the Marquee, Klooks Kleek, [and] the Ram Jam Club. All the places we used to go and see bands, there we were.
At last, we were one of them." An early break happened at a talent competition, where producer John Schroeder-riding high from "Walking Back To Happiness," the #1 hit that he'd written for Helen Shapiro-was also a judge. (The connection proved fortuitous, indeed: Schroeder also produced the first Timebox single, "I'll Always You.") "I think we came in second; he actually signed the band up," Halsey recalls. "For about a year or so, we released four singles, and we used to just gig around, and play." Like the Bo Street Runners, however, the Orioles would remain little more than a street-level local band. None of their singles made any great impact, though the second-"Turn On Your Lovelight"/"Sweet Tasting Wine" (October 1965)-is generally considered their finest hour.
The band soon got dropped, although John remembers the fun ending for a different reason, one he can laugh about now: "We took the big step of packing our jobs up, trying to do it [music] fulltime-and the band split up, two weeks after that! Everybody went back to work." Everybody, that is, except Newman, and Halsey, who, as October of 1967 beckoned, began advertising what he calls "a 'drummer for sale' sort of thing in the Melody Maker."
After an initial call from Laurie Jay, Halsey went to the Scotch of St. James, "another club where people used to hang out," he says, "I went down there and sat in, and played really, really badly, because I was so nervous-which I always am, in any situation like that." But another call came the next day: could John try again, this time, at Bentwater's, a club tucked away at an American airbase in East Anglia? "It was a mid-week gig. You'd go out there and play for about three or four hours, for a fiver each," he laughs.
At the appointed hour, the boys loaded Halsey's drums into their van, and shot off to Bentwater's, where the outcome proved more satisfactory. "I was quite relaxed then, played the way I'd normally play, and they were all pleased," John says. "They said, 'Why didn't you play like that last night?' I said, 'Well, I was just too nervous, really.'"
Eddie McHenry-like the Admiral, a fellow drummer and north Londoner, from Finchley [who played for The Lee Sabre Combo in 1962] - witnessed his share of surreal moments as the calendar heated up. John's mate found himself called on to help out, too, such as one occasion in 1968, after he returned from a trip abroad. "They needed a roadie, and nobody had a driving license," McHenry recalls, laughing. "I didn't have a gig, so I just drove until they got a roadie, and then, were mates of the band, and would go to gigs."
---
OUR STORY (TAKE FIVE): OLLIE COMES INTO HIS OWN
Undoubtedly, nobody appreciated these developments more than Laurie Jay, who could resume his managerial role-though not without one more drumming appearance on "Don't Make Promises"/"Walking Through The Streets Of My Mind" (October 1967), which was in the can when Halsey joined. The single marked Timebox's first offering for Decca's new Deram imprint, although Holmes is keen to point out one little fact: "It wasn't a deal, there was no money involved at all, not in those days!" Halsey, for his part, had no real inkling of his bandmates' situation before he joined up. "They were all living in a really bad condition, more or less in a room with no money really, really struggling," he says. "They had all these gigs, a Decca recording contract, all these sort of promises coming up, and no drummer."
Based on this outing, Timebox had a promising future ahead. The A-side featured a Tim Hardin lament ("Don't make promises you can't keep"), given a truly epic treatment. The production is impressive, featuring some glistening sitar lines from Ollie, a burbling Griffiths bassline, and swooning female backing vocals-showing the sound had matured, to a degree unimaginable on those more tentative earlier singles. (Collectors, take your marks: promo copies feature a different vocal take and vibe solo, minus the sitar and backup vocals.)
[continued . . .
. . . continued]
"Walking Through The Streets Of My Mind," which features Ollie's first lead vocal, is a lower-key original built around prominent strings, vibes and wind chimes that strives for a more American R&B feel (though it did become the A-side in France). For Holmes, "Don't Make Promises" marks the time that Ollie "was beginning to show his prowess, playing a sitar he'd only had for two months," the keyboardist says. "He was one of those chaps who could pick up any instrument, and master it.
He was just a complete one-off." Indeed: if stellar musicianship alone guaranteed success, "Don't Make Promises" should have turned the trick, but the public ignored it, as they'd done with Timebox's other efforts.
The single also marked the last bow for Fogarty, who'd lately begun feeling some heat from a certain O. Halsall in the guitar department. Halsey suspects that he knows one reason. "Well, Ollie had a big thing about Kevan Fogarty, Kevan was from quite a privileged background," John explains. "When they were all down in London, after they'd been there a little while, they had all their equipment stolen. And Kevan's guitar was replaced immediately-by his parents, I think-whereas the others all struggled to get instruments around them again, rather than go back to Southport, and admit defeat."
That said, Halsey sees a more basic reason for the latest lineup change, even if Ollie happened to be the instigator: "He [Fogarty] didn't really seem to fit in. There was a close, 'five of us [bonding],' and he was a little bit the odd one out. So, he got the shove, Ollie got a guitar, and then he just had to get it together."
At this point, Ollie knew his way around the fretboard, and could play a little piano, too. However, nothing prepared his bandmates for what happened next, after Laurie Jay bought him a standard model Telecaster. "He started playing reasonably well very, very quickly, and then started playing exceptionally well, after about a year or so," Halsey says. "Mind you, we used to work seven nights a week. He used to practice and practice all the time."
But Ollie soon determined that, to fully refine his style, he required a different sort of guitar-In this case, the white Gibson SG that became his main onstage weapon until 1976 (more about this circumstances later, however). "Well, he didn't buy it, Laurie Boost bought it," Halsey says. "That's when he bought the SG, and managed as if there was no stopping him then. He then just became this incredible guitar player. Everywhere we played, especially in London, it [the venues] would just be filled with guitar players."
Unlike his peers, Ollie avoided emulating the era's major guitar heroes, such as Eric Clapton, Jimi Hendrix, or Jimmy Page. "He didn't sound like anybody else, except himself," McHenry observes. "Being friends, I was listening to the same things they were: Coltrane, Mingus, Thelonious Monk, and James Brown, so he had a wonderful mixture, and I always thought that used to come out in his playing."
It's an ethic strongly reminiscent of a quote attributed to Mile Davis: namely, if you're not making mistakes, you're not trying. "He didn't stick to standard blues pentatonic stuff very much-[but] he could do that," says Monks, who saw many an inspired Halsall moment onstage. "He used to tie himself in knots, go into a solo, get totally lost, but he'd always get out of it, find his way back."
And, like many jazz-oriented players, Ollie's approach owed more to emulating keyboard or saxophone sounds, than other guitar players. "He used to pretend it was a saxophone, and breathe along with the phrases," Monks says. "He'd do a particular line as long as he could breathe it, then he'd do the next bit, know what I mean?"
Ollie would get plenty of chances to sharpen his skills. Without a hit record to ignite the charts, live work remained part of the job description, ensuring that nights off were few and far between. Yet whether a band stayed close to home, or ventured into the provinces, there was more than enough work to go around-enabling the musicians to earn a decent, if hardly luxurious living, as McHenry points out.
"Well, in those days, things were so much cheaper. The equipment all fitted in one van, a Thames Transit-[with] two roadies, four or five people in the band, and that was it, you'd be off to gigs," McHenry says. "I mean, obviously, if you had to stay overnight, you'd try to work it out so you'd try and get two or three gigs in the area, but, if not, back to town."
---
OUR STORY (TAKE SIX):
THE ONE THAT GOT AWAY Tightening wallets or not, there were compensations-with Flower Power in full swing, standing outside the whole nine-to-five equation felt logical, and natural. "We were all young men, having this sort of good time, [being] big music fans," McHenry explains. "It was just a nice lifestyle at the time. The Beatles had been big - it was a remarkable time, especially [with] 'swinging London,' in the '60s."
Back in rehearsal, Timebox were starting to write their own songs, at first, focusing on the emerging collaboration between Mike and Ollie, "but we all contributed, especially in the early days," Halsey says. "We wrote about half a dozen songs over the next few weeks." Getting the results on tape, however, proved problematic.
Between February and March of 1968, Timebox worked on an aborted album with Wayne Bickerton-who'd started off in the Pete Best Four, then moved into production with Petula Clark, and Giles, Giles & Fripp, those cheerful (if rather unsuccessful) forerunners to King Crimson.
The Deram Anthology's emergence in 1998 gave a better snapshot of the contents. Certainly, the band could tackle any style it fancied, from straightahead pop ("Love The Girl"), to soul balladry ("Leave Me To Cry"), funked-out rock ("Black Dog"), even laidback country ("Country Dan & Lil"). Often, the characters in these songs yearn for something greater than themselves, as in "Treehouse," whose narrator's desire to shun the grind of urban life ("But they're not scaring me/'Cause I'm here in my tree/And I'm alive, and I have no regrets") isn't terribly removed from the sentiments of a song like "Octopus's Garden."
Similarly, the hero of "Barnabas Swain"-a soulful, vibes-driven pop-rock number-lays out the story of one man's search to find true love. Like many Timebox songs, it's a nod to real life; "Barnabas" was the nickname bestowed on Phillip Swain (who served as the main roadie alongside his brother, Eric).
The hero of "Eddie McHenry"'s whimsical vaudevillian pop declines to read any deeper meaning into the song named after himself: "I think the idea was, I was just a very good friend of the band, and they just used my name for a song-just one of those things, a nice thing to do," McHenry observes. "It was just a sort of madcap humor thing."
How Bickerton saw his role, however, proved a different matter. "We came out of the studio very, very discontented," John recalls, "because we weren't allowed to play the way that we thought we should be playing. He was very, very insistent that things were done in his way." (Bickerton has become a high-ranking music publishing executive; attempts to contact him for this story were unsuccessful.)
Amid all this collective frowning, the results-save for one key B-side, "Gone Is The Sad Man"-went straight to the vaults, which is a pity. These songs contained an album that would have held up against any of the era's major offerings-if only the band had been allowed to release it.
The Deram tracks should not be confused with The Original Moose On The Loose (Peters International/Cosmos Collector CCLPS-9016), which came out in America and simply compiled all the later-period singles, from "Don't Make Promises" onward. "I don't think we had a title for the album when it was being recorded," Halsey says. "That [Moose On The Loose] had been tacked on 20 years later."
Fine; forget the album, then. Deram went back to the old game plan: secure the breakout hit that, presumably, might buy the freedom to record something a little more groundbreaking. Aldred handled the production for the next single, "Come On Up"/"A Woman That's Waiting," a French-only affair that also marked John Halsey's recording debut (April 1968).
The A-side featured a Young Rascals tune that the band had been playing from its earliest days, while the flipside featured an original co-written by Patto and Ivan Zagni (an associate of the Bo Street Runners keyboardist, Tim Hinkley). Once more, the lavish orchestration reappeared for a typically understated pop-soul number, and passionate Patto vocal, that-once more-fell on deaf ears.
In May 1968, Deram tried another favorite culled from the band's live sets-"Beggin'," which had been a hit for the Four Seasons (with "A Woman That's Waiting" conveniently recycled on the B-side). For this production, there were no half-measures, from the bubbling 16-bar Latin percussion breakdown by Ray Cooper (who'd become a mainstay of Elton John's touring band), to the swooning orchestral arrangement from Mike Vickers, who'd just left Manfred Mann. "I think his arrangement was the first job that he got," Halsey recalls. "And he brought in various string players, and put the orchestral arrangement on it.
A drummer called Barry Morgan [later in Blue Mink] played percussion - all this, to put one over the top. He played congas on it, and things like that." (As if that reinforcement weren't enough, Madeleine Bell and Kiki Dee also sang backup vocals, too.)
For many listeners, "Beggin'" remains "the one that got away"-the hit that Timebox might have produced, with more support, or less pressure, behind the scenes. Disc And Music Echo crowned "Beggin'" as "This Week's Best Disc" (June 1, 1968): "It doesn't let up for a moment and Michael Aldred has every right to be very pleased with the production and net result. If it's not a hit there's something very very wrong and it's going to be all your fault!" Melody Maker's verdict was equally positive: "Great production by Michael Aldred and with a driving, dramatic tune, seems destined to hit. Listen for the conga drums and vibes which add taste and depth to the overall sound" (June 1, 1968).
The big push was on, as both papers reported. By June 14, "Beggin'" would be available in Belgium, Denmark, Holland, Luxembourg, Norway, and Sweden. According to Melody Maker, negotiations were also underway for a French tour-supposedly, to make up for dates spoiled by the recent student riots there, a story that Halsey has laughed off as a management fabrication. (The paper also claimed that a live album was being contemplated for the French market; nothing came of that scheme, either.) Finally, the public responded-at first, anyway.
On July 27, 1968, "Beggin'" entered Record Mirror's Top 50 charts at #49, peaking at #38 during the following week. By August 17, "Beggin'" slipped back to #48, and down into the netherworld of almost-hits-though, as the boys knew well by now, "almost" didn't cut it anymore.
As Record Mirror noted in its August 17 issue, the pop chart business was a mysterious one, indeed. The paper's story ("Keep One Eye On The Charts Say The Timebox") quoted an anonymous representative from Decca, who claimed that, the 10-place drop aside, "Beggin'" had actually increased in sales! Being the group's spokesman, Mike Patto did his best to put a positive face on things.
Claiming that "Beggin' "wasn't representative of Timebox's stage act, he hoped that its success would finally allow his band the breathing space it needed to survive: "It's important to have one eye on the charts-I think we have our own sound, yes, but we have to compromise a bit so that people will listen." Still, Halsey reckons that "Beggin'" did better than its chart positions suggest, despite being released on the same day as the Rolling Stones' "Jumpin' Jack Flash"! The difference between the two songs? "Jumpin' Jack Flash" shot to number one, "and 'Beggin'' didn't go anywhere, really," John says. "By the time it dropped on the BBC playlist, 'Jumpin' Jack Flash' had only two more plays than 'Beggin'.'"
Holmes remains proud of the song, which he rightfully labels "way ahead of its time, as a production piece." Its appeal has grown over the years. "'Beggin' has been actually a DJ hit. Unfortunately, it wasn't our version," he notes, with a rueful laugh.
An unlikely reminder surfaced a couple years ago, when one of Halsey's nieces wrote to thank him for their anniversary present. After the usual pleasantries, the niece casually stated, "By the way, they're still playing 'Beggin'' over here." "Yeah, that was a good record, that's stood the test of time," Halsey enthuses. "In fact, that could be released, and still be a hit now. It was a record of such good quality."
---
OUR STORY (TAKE SEVEN): CHASING UP THOSE CHARTBOUND RAINBOWS Undaunted by the failure of "Beggin'," producer Aldred revisited the same lavishly orchestrated blueprint for the next single, "Girl Don't Make Me Wait" / "Gone Is The Sad Man" (November 1968), that again failed to win public favor. For fans of Ollie's work, however, it's the B-side-his first of many collaborations with Patto-that merits more attention.
"Gone Is The Sad Man" builds around a piano/vibes frontline, but creative touches abound, such as the backwards guitar swirls that rear up in the middle, rounded off by a truly infectious chorus. (Not surprisingly, due to its inclusion on many freakbeat and psychedelic compilations, "Gone Is The Sad Man" easily remains Timebox's best-known track (after "Beggin'," of course).
By now, though, a resigned mood seemed to be taking over the camp, judging by Melody Maker's headline of December 21, 1968 ("Timebox Still Chasing That Elusive First Hit"). Mike emphasized that change was in the air ("We can't sell jazz to pop audiences"), but hoped the fans would understand: "Of course, we want a hit. We need it from the financial point of view and to get better and bigger bookings."
So why, then, didn't that happen? By his own admission, Monks was well aware of Timebox's capabilities, having seen them "at the open air swimming pool in Finchley, in 1968," he says, "but I didn't take too much notice of them at the time." Monks believes that the band's choice of material had some bearing on their prospects. "At that time, everyone was playing Wilson Pickett, and a lot of Tamla Motown stuff," Monks says. "They tended to play Nina Simone songs, a lot of Booker T [& the MGs]-a slightly different situation from what everybody else was playing. A bit more classy, if you like."
Classy, yes, but confusing to anyone expecting to hear those singles at gigs - the same dilemma that bedeviled better-known bands, like Pink Floyd. "They were sort of hard to pin down," McHenry believes. "They weren't like another band from the period, Free-[a] very straightforward, basic, sort of bluesy band. You heard a couple numbers, you knew exactly where you were with them." There was one undeniable benefit, however. "Everyone became pretty proficient at what they were doing, because we were playing so much,"
Halsey notes. "I used to say to Eric [Swain], 'When do we get a night off?' And it'd be like, '20 nights.' We were working every 20 nights, and then we got a night off. And then, it was another 15 nights, you'd get a night off. In the meantime, these [other] nights would be filled up." When those nights got to be too much, a good time lay around the corner at "my infamous flat," as Helen Newman calls it-No. 10 Albion Street, near EMI Studios. "It was quite an address," Helen says. "It was right at Marble Arch, on the Bayswater Road, right opposite Hyde Park, three doors down from Mike D'Abo."
The boys came over frequently, "mainly to get stoned, and play whatever they were working on," Helen says. "They were the best guys to have around. I was thrilled to bits. I don't think I ever fed them very much, but I would have done, just to have their company. As I say, I had good dope. I was so central." By now, having started to plunk around a bit on guitar herself, Helen worked up the nerve to ask Ollie if he could show her a few things: "Those wonderful eyebrows of his went up: 'Really, H? That's great!" Popping such a question to many other male musicians of that era, as Helen notes, would have earned snorts of laughter, but Ollie responded, as only he could-by bringing over his set, all 10 books of it.
Helen has no idea where those books are now, but she still holds vivid memories of them. "I can remember the size of them," Helen says. "They were softcover, sort of biggish books. They were all different colors, for the different lessons, and he had written stuff in them-a whole tuition set that, obviously, he had purchased. But these, he said, were his grounding tuition manuals."
Ollie showed Helen the first book, "that sort of explained how they [the set] worked," she says. "He said, 'Here you are, just do one page a day-just a do a little every day. Just play every day'-which I did, and my fingers used to get really sore." "I never became much of a musician-but, anyway, it was a thrill that he took me seriously, because I was so in awe of him, and his playing. When he did a guitar solo, you could hear a pin drop."
The band had truly come far as a unit, even if the records remained hit-or-miss, as shown by the March 1969 release of "Baked Jam Roll In Your Eye"/"Poor Little Heartbreaker," in which the band swung from the sublime to the silly. The A-side is a bright, poppy novelty song about a failed Martian invasion whose hapless leader, Klaus, resorts to firing baked jam rolls at his unwitting Earthling hosts-hence, the chorus, "Are you trying to kill, or feed me?" "That was self-produced, really, to all intents and purposes,"
Holmes recalls. "We did it in a private studio, you know? And that was quite good. I thought the actual sound of Mike, personally, was a good production." "Baked Jam" is reminiscent of the Bonzo Dog Doo Dah Band (minus the surreal wordplay, perhaps), or "You Know My Name (Look Up The Number)," by the Beatles-except, in this case, the novelty track would have graced the B-side! Imagine the buyer's remorse, then, after hearing "Poor Little Heartbreaker," a thunderous rocker capped off by some of Ollie's most biting lead work to date-and buried on the B-side, at that. The confusion had to be massive. "That was the sort of the arrow pointing the way that Patto would become-not lots of chords in it, not lots of arrangement, but you hear Ollie developing that guitar sound," Holmes says, "and Mike singing his heart out. It's great!"
John Halsey felt more enthusiastic about the B-side, too: "The day before it ['Baked Jam'] was due to be released, we all more or less looked at each other, and said, 'What have we done?' Then, it was released, and it was like, 'What have we done? The other side was much better. I tell you, 'Poor Little Heartbreaker' would have been a great song for the Four Tops." Some reviewers voiced similar doubts. "If I didn't like and respect the band I would be a lot ruder about this sad production about 'Martians coming to earth-you'd better watch out,' etc," Melody Maker's Chris Welch harrumphed in his singles column for March 8, 1969. Disc And Music Echo's verdict, handed down that same day, took a lighter-hearted stance on the song, which it likened to the Bonzos: "A sort of mad nursery tale of an invasion from Mars led by one 'Galloping Klaus.' Ho, ho, a merry wheeze indeed. "
There would be one more attempt to pique public fancy with "Yellow Van" / "You've Got The Chance" (October 1969), a Wayne Bickerton production that, once again, showcased two distinctly different musical personas. "Yellow Van" flew the pop flag proudly, buoyed by a sprightly horn section, although its image of a "heart-breakin', woman-crazy salesman"-who promises to provide "everything you want, and more," if you only let this lustful interloper in your home-isn't as cheery as the production leads the listener to believe.
The blueiser B-side, on the other hand, served largely as a showcase for Mike's full-throated emotive style, which had never sounded better on record. Alas, even this stab at conventionality couldn't boost the band's fortunes, once the BBC slapped a ban on the single, largely, it seems, due to those suggestive lyrics on the A-side.
---
OUR STORY (TAKE EIGHT ): FROM POPSTERS TO PROUD PROGRESSIVES Records were one thing, of course; live, however, the jazzy, vibraphone-flecked side of Timebox was fast receding into memory, with Holmes increasingly feeling "like a bit of a passenger," as he puts it. "It was getting [into] heavy time signatures-very complex, extremely complex," Holmes says. "Don't forget, some of these rehearsals would be five-, six-hour rehearsals, with lots of dope smoking going on, you know?"
Among musicians in the know, a new buzzword was fast gaining ground: progressive rock," whose trademarks put a premium on lengthier, more intricate material. The old "three chord trick" would no longer do; classical and jazz influences were fair game for inclusion now. Albums were becoming experimental platforms. Songs might occupy an entire side, or tell an extended story, as the Kinks, the Pretty Things and the Who did with their respective masterpieces (Arthur, S.F. Sorrow, and Tommy). Pop's eternal promise of romance and rebellion was old hat, too; lyric writers like Peter Brown (Cream), Pete Sinfield (King Crimson) and Keith Reid (Procol Harum) were delving into more challenging turf, often laden with dense literary and mythologic name-dropping.
The implications didn't take long to grasp. "People were booking us for dances, and college balls, and we were turning up with the stuff we'd developed," Halsey says. "And the stuff we were playing wasn't dance music, in any way-well, it was like having an end of term ball, and booking Ornette Coleman, you know? So we had to change the name of the band."
By the fall of 1969, Timebox's redoubtable keyboardist had drawn similar conclusions. During a meeting at Halsey's flat, where he also lived, Holmes gave his notice to the band. For John, the news simply affirmed the transition that was already underway: "We felt that we had more freedom without Chris in the band-it was rather restrictive [otherwise]."
"They were very much concentrating on Ollie playing guitar, writing their own material," McHenry agrees. "They loosened up, the numbers got longer. It was a heavier rock sort of approach, plus this jazz undercurrent they always had - lots of improvisations, funny time signatures, [and] expanding musically." All the same, a circle had broken, which hardly made his decision any easier, according to Holmes: "We'd all come and gone back to '65, you know, making music from art college, but it was very hurtful to leave. I actually asked them to let me go. They said, 'Pull your socks up, you know, we don't want you to leave.'" (Hold that thought: Barry Monks has a slightly different recollection, as we'll see in due course.)
Getting a new record deal was the next priority. Right off, Mervyn "Muff" Winwood, the older, lesser-known sibling to Traffic's keyboardist/frontman, Steve Winwood, voiced interest in producing this new, proudly progressive entity. Yet Muff's involvement raised hopes about the band's creative home that were quickly and brutally dashed, as Halsey explains: "He wanted to get us on Island [Records], obviously, being a director up there-head of A&R, or whatever it was-an d [Island boss] Chris Blackwell wasn't keen."
Instead, Patto landed on Vertigo, the subsidiary label that Phillips Records created to counter its rivals' own efforts in the progressive scene. Though time has conferred an ample sheen of credibility and collectibility on Vertigo's eccentric output, John has little doubt about which association might have proven more beneficial: "We really wanted to be on the Island label, just for the prestige of it-it was the label to be on. It would automatically win you respect, you know?" (As we'll see, the boys would end up on Island - only, in less than satisfying circumstances.)
The next step proved mercifully easier. With one less member-and a radically different sound-the time seemed ripe for a new moniker. The obvious choice presented itself in due course. "I think, in the end, Muff Winwood and Laurie Boost turned up in rehearsal," Halsey recalls. "They both said, 'It's obvious what you got to call the band: Patto.' And we did." Next time: The road to Patto, and beyond... from small gigs in London, to the madness of supporting Joe Cocker, the Faces and Ten Years After on tour...and why, it all came crashing to an end, after only three years. . .
---
© Ugly Things magazine 2010. Thanks to all who participated in this installment, including John Halsey, Chris Holmes, Eddie McHenry, Barry Monks, Helen Newman, Tony Newman, and Zoot Money, Also: special thanks to Jon Kanis, of "State-Controlled Radio," for permission to use the Neil Innes quotes excerpted here.
---
'Chairman' Ralph Heibutzki's 'Ministry of Truth'